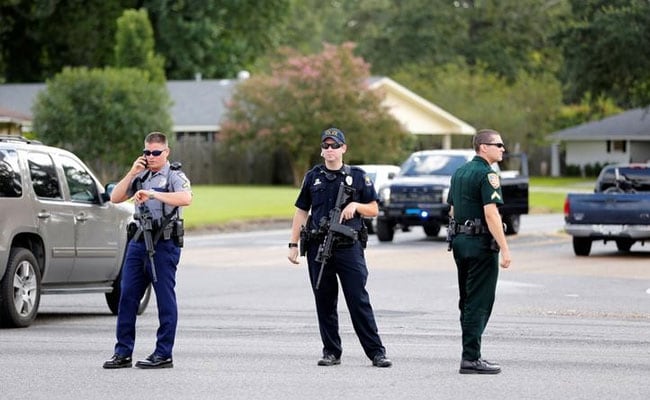 Los Angeles:
An Asian farm worker was in custody Monday after seven of his colleagues were killed in front of children at two California locations, while another mass shooting rocked the state.
Emergency services were called to farms in San Mateo County, south of San Francisco, where they found dead and injured.
Sheriff Christina Corpus said Chunli Zhao, 67, was arrested shortly after the massacre erupted in a dramatic takedown captured by local TV crews in the agricultural region of Half Moon Bay.
"At 2:22 p.m. today, sheriff's deputies were dispatched… to the report of a multiple-victim shooting.
"On arrival, officers found four victims with gunshot wounds.
A fifth victim who also had a gunshot wound was transported to Stanford Medical Center with life-threatening injuries.
"Shortly afterwards, three other victims with gunshot wounds were found at a separate shooting site."
Corpus said Zhao then drove to a sheriff's substation in Half Moon Bay, where ABC7 crews were waiting for a press conference.
Dramatic footage showed an Asian man in a red fleece sweater and jeans being pulled to the ground by armed officers.
"Zhao was taken into custody without incident and a semi-automatic pistol was in his vehicle," Corpus said.
The motive for the shooting was not yet known, Corpus said, but it had occurred in a rural area with families nearby.
"It's spread out. There are also people living at the site… it was in the afternoon when the kids weren't in school and for kids to witness it, it's unspeakable," she said.
NBC Bay Area quoted a Half Moon Bay city councilman as saying the victims are Chinese farm workers.
Both farms are on the edge of Half Moon Bay, and aerial photos taken by news crews show them with rows of greenhouses.
The new bloodshed came less than 48 hours after a gunman killed 11 people at a dance studio near Los Angeles.
California Governor Gavin Newsom, who has been to Monterey Park where that massacre took place, took to Twitter shortly after news of the new killings broke.
"At the hospital gathering of victims of a mass shooting when I'm pulled away to be briefed on another shooting. This time in Half Moon Bay. Tragedy after tragedy."
White House press spokeswoman Karine Jean-Pierre said President Joe Biden was made aware of the incident.
"He has asked federal law enforcement to provide necessary assistance to local authorities. As more details become available, the president will be updated."
(follow UK Time News on Social Platforms.)
Featured video of the day
The law minister's big comment about judges amidst the center versus the judiciary
.