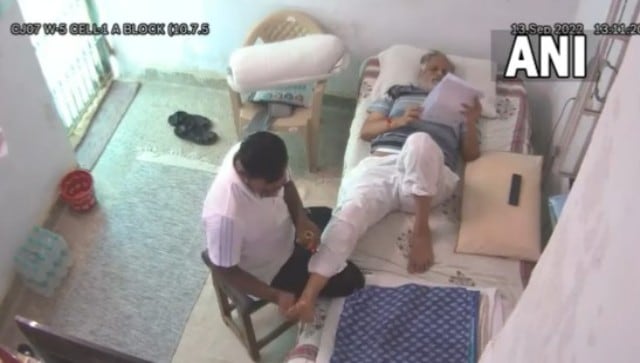 Captured AAP Minister Satyendar Jain. ANI
New Delhi: On Saturday, Bharatiya Janata Party (BJP) released an old video of Aam Aadmi Party (AAP) minister Satyendar Jain receiving a massage in a Tihar prison cell. The video comes just days after Tihar Prison Superintendent Ajit Kumar was suspended for alleged VIP treatment of the minister.
BJP IT cell head Amit Malviya tweeted the video and said, "Arvind Kejriwal has reduced Tihar to a massage parlor. His imprisoned minister Satyendra Jain was supposed to get a masseur, who, against all prison rules, would pamper the prisoner due to his proximity to the Delhi CM. Delhi Govt administers Tihar. ये भ्रष्टाचारी राजनीति बदलने आए थे। (These corrupt people had come to change the politics)."
It is said to be an old video and prison authorities have already taken action against officers and prison staff involved.
The Enforcement Directorate (ED) previously alleged that Jain, who has been arrested in connection with an alleged money laundering case, received VIP treatment at Tihar Prison, including facilities such as head, back and foot massages. The Delhi minister was arrested on May 30.
The investigative agency has also presented evidence related to his "luxurious life" in prison to a court.
Appearing before the ED, Additional Solicitor General (ASG) SV Raju had said: "Unknown persons gave massages and foot massages to Jain even outside curfew. He was given special food."
The ASG further shared CCTV footage with the court further claiming that Satyendar Jain was usually in a hospital or jail enjoying various facilities.
BJP's Shehzad Poonawalla slammed AAP by sharing another CCTV footage showing Jain getting a foot massage saying, "VVIP treatment in jail! Can Kejriwal defend such a mantri? Shouldn't he be fired? This shows the true face of AAP!"
Delhi minister Manish and party leader Manish Sisodia responded to the allegations: "Satyendra Jain has had two surgeries for back injuries. The doctor has prescribed regular physiotherapy for him. After Covid-19, there is a spot in his lungs that has not been treated. cured. The very idea of ​​making fun of someone's illness and the treatment they're given is disgusting."
Read all Latest news, Trending news, Cricket news, Bollywood news,
India news and News here. Follow us on facebook, Twitter and Instagram.