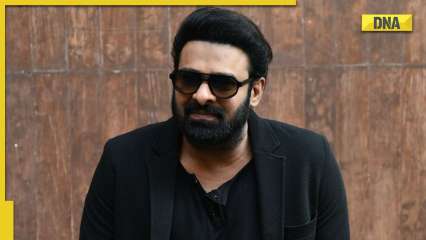 There's no denying that pan-Indian superstar Prabhas' upcoming film Adipurush is one of the most anticipated and talked about films of recent times. Directed by Om Raut and made with a huge budget of Rs 500 crore (excluding budget allocated for printing and publicity of the film), besides Prabhas, the film also stars Kriti Sanon, Sunny Singh and Saif Ali Khan in the main roles.
Scheduled for release on January 12, 2023, Adipurush is an adaptation of the Indian mythological saga Ramayana. Ever since the announcement of the project, Prabhas fans have been eagerly awaiting any update on the movie. However, it looks like the makers are going to take a little longer to give fans a taste of what to expect from the magnum-opus.
READ: 'Adipurush': Prabhas, Saif Ali Khan, Kriti Sanon star postponed to 2023, new release date here
Meanwhile, a report in Bollywoodlife states that amid the ongoing filming of the film, Prabhas raised his fees and asked the directors for a whopping Rs 120 crore as a fee. The hike in fees has left the makers in deep trouble since a significant portion of the film's shooting is still pending and Prabhas has reportedly raised his fees, the film's budget is increasing by almost 25%, according to the report.
"What's more amazing is the actor's demand despite Radhe Shyam's disastrous performance at the box office," a source told the portal.
Earlier in a statement, director Om Raut said that Prabhas is undoubtedly India's biggest star. he had also mentioned how wonderful the actor was. "He has the most expressive eyes and it's a reflection of his heart. I managed to get Prabhas to convey the emotions that I wanted him to convey, through his eyes." he added: "Apart from his work attitude, Prabhas brings home-cooked food to the sets. What I love about him is that he is always considerate of the people on the sets, no matter what. their stature."
A few days ago, Prabhas was spotted at director Om Raut's Bandra apartment. Om Raut had organized a gala evening at his residence in Bandra, which Prabhas attended. In black jeans and a brown top, Prabhas looked dapper and seemed to have worked out a new look. He also looked slimmer after losing weight. These videos and photos featuring Prabhas and Om Raut had gone viral on social media.
Work wise, besides Adipurush, Prabhas has Salaar by Prashanth Neel, after which he will be seen in a film, which will be directed by Maruthi. Prabhas also has a huge project called Spirit which will be directed by Arjun Reddy famous Sandeep Vanga.
.