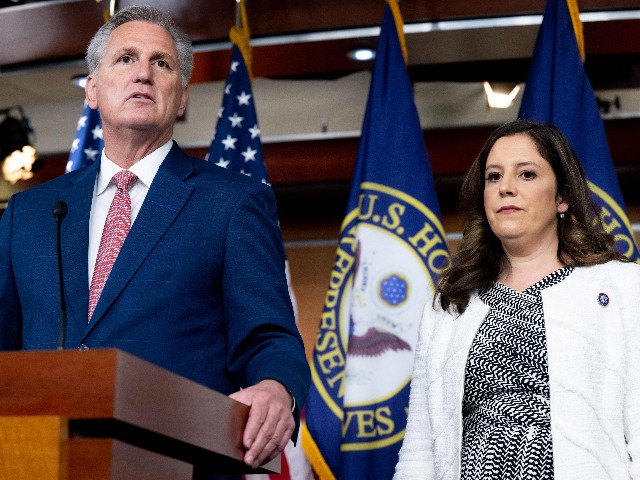 Rep. Elise Stefanik (R-NY) praised the Pentagon for investigating recently surfaced comments of disparaging white people made by the head of diversity, justice and inclusion for the Department of Defense's K-12 school system after she and another Republican congressman a letter to DOD.
"After House Republicans plead, the Department of Defense will conduct an assessment of [Department of Defense's Education Activity (DoDEA)'s woke diversity chief and her history of divisive rhetoric," Stefanik said in a statement about Kelisa Wing.
Wing, who oversees the DEI curriculum for all of the military's K-12 schools that serve more than 66,000 children, disparaged white people on a number of occasions on social media.
Wing wrote in June 2020 on her Twitter account, "I'm exhausted with these white folx in these [professional development] sessions."
She also tweeted in July 2020:[T]his lady actually had the CAUdacity of saying black people can be racist too…I had to stop the session and give Karen the BUSINESS… [W]We are not the majority, we have no power."
"Caudacity" is a derogatory slang term that combines "Caucasian" and "audacity".
Wing apparently deleted her Twitter account, but not before UKTN News captured her tweets.
After Stefanik and Rep. Scott Franklin (R-FL) had demanded answers from the Pentagon about these statements, a DOD spokeswoman said they would review the "case."
Navy Commander Nicole Schwegman told UKTN News, "We are aware of news reports about an official at DoDEA. The Defense Secretary's Office for Personnel and Readiness is investigating this matter."
However, Schwegman added: "Diversity, equity and inclusion efforts in… [DoDEA] are an important part of building and maintaining an organizational culture in which all students, faculty and staff are valued and respected. …Our focus remains to ensure that students associated with the military, their families, and our employees have equal access to opportunities and resources that support student performance and readiness for college and careers."
Stefanik said in a statement Monday:
The fact that Ms. Wing's history of advocating extreme wakeful ideologies was undetected, or worse, ignored needs to be remedied. The Department of Defense needs to refocus their priorities away from waking ideologies and back to strengthening our national defenses. The focus of our military should be to keep our nation safe, and I am committed to ensuring that our military is fully equipped to defend our country against the many threats we face worldwide. Right now, while the Pentagon is not filling our military ranks and our adversaries around the world are rapidly increasing their capabilities, the Department of Defense has routinely prioritized holding on to vigilant ideologies rather than bolstering our national defenses. This is shameful and an insult to the brave men and women who selflessly serve our nation. I am determined to continue working to restore Americans' confidence in our military by providing our military with the resources necessary to win our nation's wars and support their families.
Follow Kristina Wong from Breitbart News on TwitterTruth Social or on Facebook.