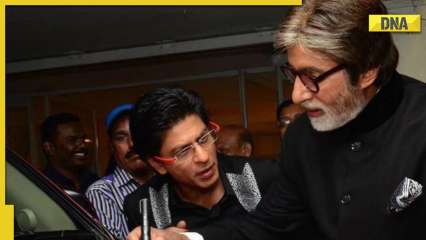 Have you ever thought about what happens when OG Don Amitabh Bachchan and new-age mafia kingpin Shah Rukh Khan get together? The moment goes historic and goes viral instantly. Bollywood megastar Amitabh Bachchan has crashed the internet by sharing a throwback image that needs no caption.
In the photo, Mr Bachchan is captured signing a poster of his 1978 blockbuster Don, and guess who was with him? The current generation Don aka Shah Rukh Khan. While Mr. Bachchan looked busy signing the poster, Khan watched and tried to say something to the classy Don. Amitabh shared the iconic moment with a caption that read, "and…uh…continue in the same vein…DON."
Here is the post



As expected, the moment instantly went viral in no time and netizens hailed the photo like anything. One user claimed: "Two captions in one frame". Another user claimed, "Don ko pakarna muskil nehi…. Naamumkin hai!!!" One user wrote, "AB the One And Only DON.. Love don."
Yesterday Sr Bachchan celebrated the 44th anniversary of the release of his iconic cult Don and shared an image of a queue standing for tickets to his film. The veteran entertainer grew nostalgic, remembering the long queues outside cinemas after his action thriller Don hit theaters in 1978.
Taking to Instagram, Amitabh captioned, "Advance booking my movie DON…And they said…the queues were a mile long…released in 1978 … 44 years! AND they were also released in the same year: DON, Kasme Vaade, Trishul, Muqaddar Ka Sikandar, Ganga Ki Saugandh… 5 Blockbusters in one year! Some of them lasted more than 50 weeks. .. Oh, that was the time!"


The vintage photo shared by the Sholay actor revealed devoted fans of the superstar standing in long lines, cheering outside theaters. The pure love people have for Amitabh is quite evident in the photo. Dating back 44 years, "Don" was one of Amitabh's most notable films. The plot follows the story of a wanted criminal on the run who succumbs to his injuries during a police chase. However, in a twist of fate, another man named Vijay who looks like a look-alike of the criminal replaces him, trying to find out the details of his wrongful deeds.
After the 1978 film, Don was part of two Bollywood remakes, titled Don and Don 2, all of which starred superstar Shah Rukh Khan.
.