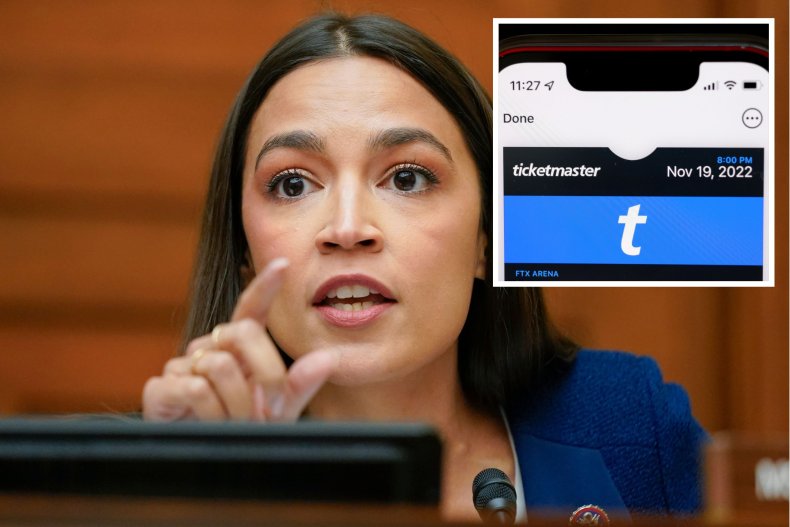 New York Democratic Representative Alexandria Ocasio-Cortez slammed Ticketmaster in a new interview with Rolling stoneblaming inflation on rising monopoly powers.
The ticketing hub has come under scrutiny in recent weeks after sales for Taylor Swift's upcoming 2023 Eras Tour turned into a ticketing nightmare. Verified fans who signed up for the presale lined up for hours online amid website crashes and "historically unprecedented demand with millions showing up to buy tickets", Ticketmaster tweeted last week.
Fans were angry and calls for an investigation into Ticketmaster's activities were echoed by members of Congress, including Ocasio-Cortez, who wrote on Twitter on Nov. 15: "Daily reminder that Ticketmaster is a monopoly, it's [sic] merger with LiveNation should never have been approved and they should be ruled [sic] in. Break them apart."
An official investigation has been launched by the Department of Justice (DOJ) to determine whether Live Nation Entertainment, a company that merged with Ticketmaster in 2010, has abused its power over the live music industry, and Ocasio-Cortez confirmed that it unbundling from the merger.
In a recent interview with Rolling stonesaid the New York Democrat, "I was looking at what was going on with the pre-release of Taylor Swift's tickets. It got on a more personal level; I actually have quite a few staff trying to get tickets that day. seeing their experience and seeing all the people talking about it online, I think it really showed how pervasive the problem is and reflects the degree of market consolidation in this industry."
Speaking of her work on the Select Committee for Economic Inequality, Ocasio-Cortez said, "One of the things we're seeing more and more is that these price increases due to inflation and the abuse of market power are due to market consolidation. It's gotten so bad. that we really see it impacting our daily lives, from how much we pay in supermarkets to not being able to see our favorite artists without paying an arm and a leg.
While Ticketmaster's purchasing system last week made it extremely difficult for many fans to get tickets, others who were able to purchase tickets to see Swift reported unprecedented prices. Some fans even joked that renting Swift's mansion on Cornelia Street in Greenwich Village, Manhattan, for $45,000 a month would be cheaper than buying two tickets, especially when sites like StubHub have seen tickets go for more than $76,000.
"Between the prices and the fees, every person who has bought tickets in the last 10 years has seen how much worse this has gotten," continued Ocasio-Cortez. "I support reversing that merger. I don't believe it should have been approved in the first place. I hope the DOJ investigation will reveal how serious the misuse of market share and power is, and how it played a role in the prices that the everyday consumer sees."
News Week has contacted a representative from AOC and Ticketmaster for comment.