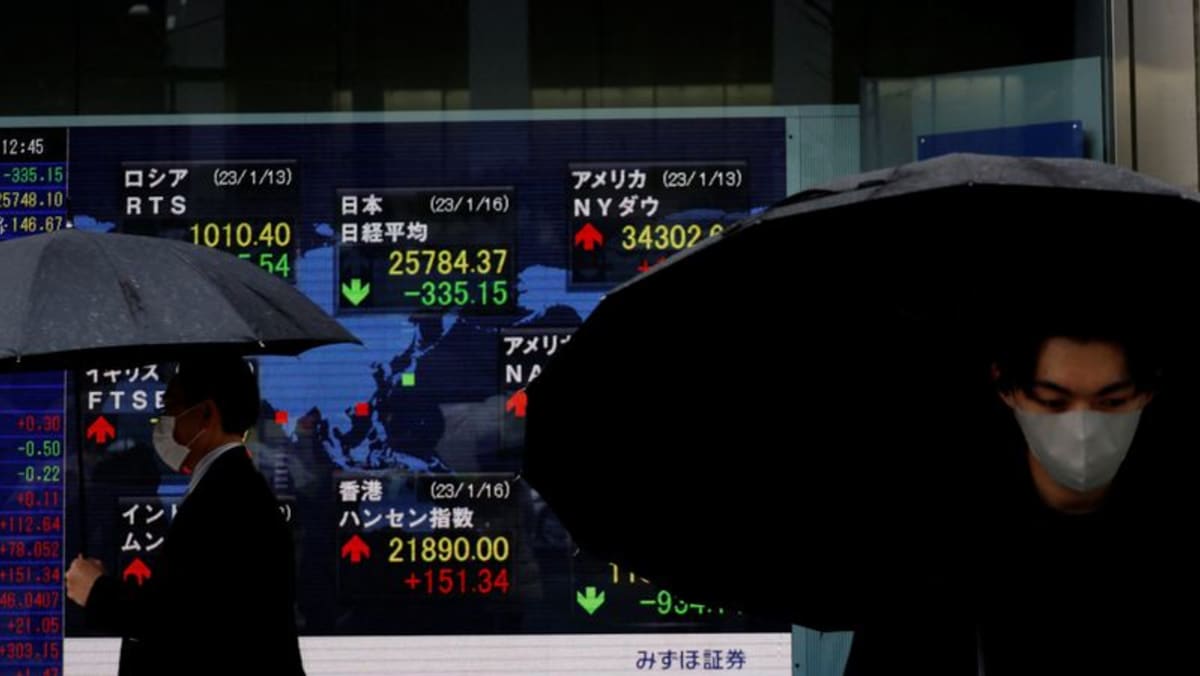 TOKYO: Most Asian stock markets rallied slightly higher on Friday as the US dollar hovered around its weakest level since May, with investors worried about the risks of a global recession as the Federal Reserve continues to hike interest rates.
US Treasury yields remained high in Tokyo after falling overnight from four-month lows. Japanese government bond yields remained low two days after the Bank of Japan defied investor pressure to further loosen yield curve controls.
Japan's Nikkei gained 0.16 percent, while the Australian benchmark was up 0.09 percent, while South Korea's Kospi fell 0.24 percent.
Hong Kong's Hang Seng was up 620.75 percent and mainland blue chips were 0.32 percent firmer.
Asian markets showed some resilience despite an overnight sell-off on Wall Street, with the S&P 500 losing 0.76 percent. E-Mini futures, however, pointed to a small increase on the reopening, gaining 0.24 percent.
Concerns about further Fed tightening were amplified by robust US employment data and new aggressive rhetoric from central bank officials.
Weekly jobless claims were lower than expected, pointing to a tight labor market.
Boston Fed president Susan Collins said the central bank should probably raise rates to "just above" 5 percent and then hold them there, while Fed Vice Chair Lael Brainard said that despite the recent moderation in inflation , it remains high and "the policy will have to be sufficiently restrictive for some time".
In particular, those comments from the "usually reliable Fed dove," Brainard, "exacerbate rate hike fears," said Tony Sycamore, an analyst at IG.
"Her coming out and saying we still need higher rates really gives the idea that the Fed really wants to hit the 75 basis points of rate hikes it predicted in December."
"The job market is just a little too hot to back down," added Sycamore.
The market is betting that the policy rate will be just below 5 percent in June, implying an additional tightening of just over 50 basis points.
Meanwhile, the dollar index, which measures the greenback against six counterparts, including the euro and the yen, remained little changed at 102.10, remaining close to a 7 1/2 month low of 101.51, set on Wednesday. reaches.
The benchmark yield on 10-year Treasury bills was about 3.4 percent, after hitting an overnight low of 3.321 percent since mid-September.
Equivalent JGB yields were flat at 0.405 percent and have remained around that level since they were knocked back from above the BOJ's 0.5 percent policy ceiling on Wednesday, as the central bank refrained from further adjustments to its yield curve controls.
Elsewhere, crude oil prices continued to climb. Brent futures for March delivery rose 48 cents, or 0.6 percent, to $86.64 a barrel, while US crude rose 54 cents to $80.87 a barrel, a gain of 0.7 percent.