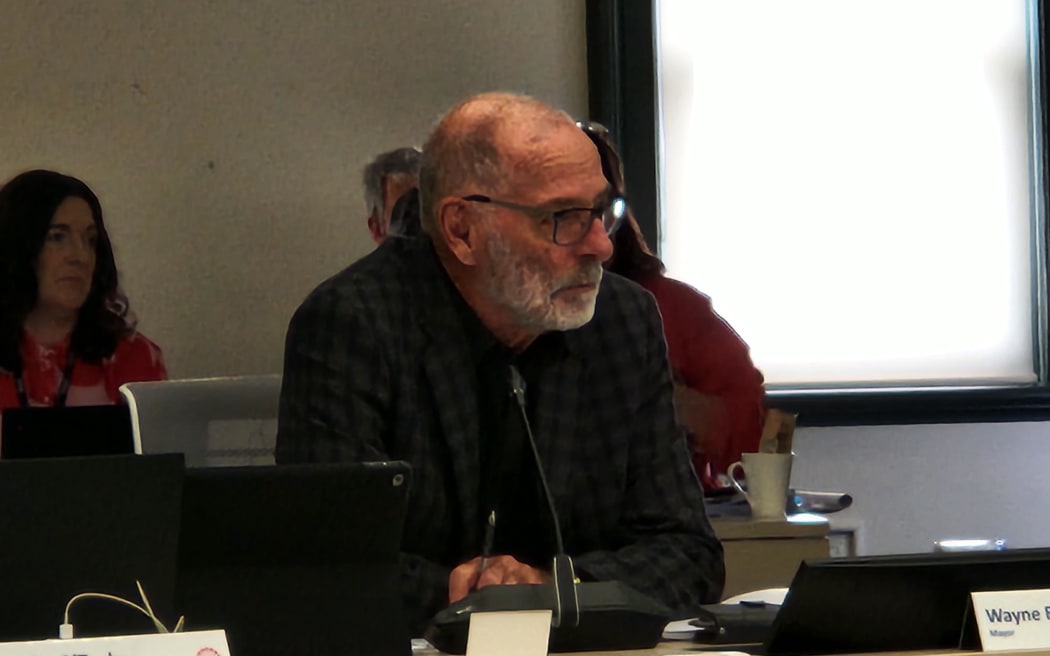 Auckland Mayor Wayne Brown gave two direct interviews to journalists in his first month in office, out of 108 media requests.
Brown won the mayoral vote on October 8 last year in a landslide, soundly beating his closest rival Efeso Collins.
His win was the result of a campaign promising to "fix Auckland", and promoting himself as a businessman, not a politician.
It's that last point that has been used by his team to justify a lack of public engagement since he took over from former mayor, Phil Goff.
Wayne Brown was no good in front of a microphone, but he was good in the boardroom, RNZ has been told.
According to figures obtained under the Local Government Official Information and Meetings Act, between October 12 and November 12, Brown received 108 media requests from radio, television, print media and online.
RNZ had asked for figures for Brown's election date of October 8, but the data provided did not include the first three days of his mayoralty, when he answered a huge number of requests for interviews and comment following his victory.
Of the 108 requests listed by Auckland Council, 54 requests for an interview were rejected. Information, statements or responses have been provided for the remaining 54.
Brown granted two one-on-one interview requests — one for Newstalk ZB's Mike Hosking and another for 1News' Katie Bradford.
In the reply – signed by Sarah Parry-Crooke, the senior privacy and official information business partner at Auckland Council – it noted that it was a "transitional period for the mayor's office, with the mayor and his interim team focusing on getting to know of the large and complex organization that is Auckland Council".
"This coincided with the establishment of all new and necessary processes of a new mayor's office and staffing its teams. To assist during this time of transition, the council's communications team has provided some assistance, including assistance in coordinating media investigations and -to request."
In addition to the two one-on-one interviews Brown allowed, two media conferences were held at the mayor's office on October 27 and 31, and a media stand-up was held on November 10, following the meeting of the mayor. governing body in Auckland Town Hall.
The response notes that the three all-in interviews involved several reporters and multimedia journalists, "and the mayor asked questions and/or spoke to reporters."
Simon Wilson, senior journalist at the New Zealand Herald, said Report tomorrow it just wasn't good enough.
"It's important because there are questions to ask him about how the city is run, what he does.
"He's rolled out a lot of new initiatives, he's running the city in a different way than in the past, and just getting the official version of it isn't really good enough."
Wilson said Brown had two ways of talking to people, one was an off-the-record chat and the other, he was good at telling people what to do.
Talking to the media didn't fit either, he said.
Wilson said Brown was simply "not good at talking to the media" and believed a decision had been made that put him at risk of "looking less than he'd like".
An important role of a mayor was being able to speak to the media and the public during a crisis, Wilson said.
The more experience Brown got talking to the media where there was no crisis, the better, because there would be a crisis, he said.
Wayne Brown turned down an RNZ request for an interview.
But a spokesman for the mayor's office reiterated that his focus after his election was on the council's performance and financial position, citing an annual budget deficit of $295 million.
"The mayor's 'first 100 days in office' was critical and required some determination in developing a mayoral proposal to bridge this financial shortfall and bring together a team of over-21s within weeks, rather than readily available for one-on-one media interviews.
"The mayor's office was very proactive and responded quickly to the media."
.