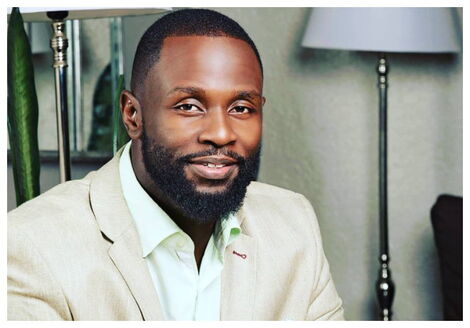 Investigative journalist John Allan Namu revealed that his first attempt at news anchoring was the most difficult moment of his career.
Speaking on Monday, Jan. 23, the veteran journalist revealed how he had to beg for the chance to practice in a screen test.
In a video seen by UKTN.co.keNamu applauded the late legendary media personality Catherine Kasavuli for guiding him through training to be who he is today.
"The year was 2006. I had just turned 23 and finished my internship at KTN that had started the year before. After much begging, I was given a chance to take a screen test to see if I could work as a news anchor.
Undated photo of investigative journalist John Allan Namu
Standard digital
The person you hear laughing in the background is the late Catherine Kasavuli (RIP). She would train my colleagues and me before we were allowed to fly," he announced.
To make sure he looked neat during his first experience as a news anchor, Namu wore a shirt given to him by his sister and used it to express the joy and determination of his journalistic journey.
"The shirt I was wearing was a birthday present from my sister Mukami Namu. I wore it that day as an affirmation of what I wanted to do," he noted.
Namu, who will be celebrating his 40th birthday on Monday, January 23, was able to hide his joy as he celebrated the milestone in his career.
"It is incredible that God has kept me in the same profession all these years, yet has blessed me so richly all along. I'm grateful for every step that led me to that screen test, and every step forward since then," he said.
After the internship period, he started working at the Mombasa road media station where he started formulating story ideas, covering live and regular news events and anchoring KTN business and KTN Weekend Prime.
Namu was also the presenter of the business program Enterprise Kenya before being promoted to Features Coordinator on KTN's bulletins while helping to produce the morning show, Sunrise Live.
Aside from his illustrious media career, Namu had a love for sports, particularly rugby, where he was capped four times by the Kenya National XV Rugby team in 2004 and 2005.
At some point, he joined the Nation Media Group NTV in 2010 but soon returned to KTN after arguing with management.
He ran an investigative news segment Jicho Pevu/Inside Story next to Mohamed Ali, one of the most appreciated news shows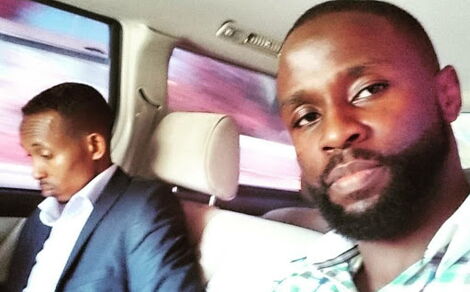 African Uncensored founder John Allan Namu (right) and Nyali MP Mohammed Ali.
Twitter
His resignation from KTN in 2015 was surprising, as his shows had already become a trademark of the station.
"The media world and media companies in Kenya have come a very long way, which is commendable. But there are still limitations and power games that go beyond the media houses. I realized that I could only grow within these limitations so far," he revealed after his resignation.
He left KTN to start his own independent media organization. With no regrets, he cherished the memories and was proud to take a bold step to begin Africa uncensored that is an independent media agency that does extensive and in-depth reporting.
"My very last day at KTNNovember 29, 2015. The next day we opened our doors to Africa uncensored first full day of operations," he then noted.
In 2019, he launched his own show called a 13-part investigative documentary series Maisha Makanda.
"Maisha Makanda is our attempt to humanize all the subjects that people might have thought were taboo. It also deals with some difficult topics, but we look at it more through the eyes and the journeys of the characters we've spoken to," he said during an earlier interview.
In early 2023, Namu premiered a new investigative docu-series that aired on Maisha Magic Plus.
The eight-episode documentary series 'the last door' includes cases that made headlines in the recent past.
On Wednesday, January 4, he was named Chief Course Instructor by the Thomson Reuters Foundation. He was expected to use his wealth of knowledge in investigative journalism to train journalists in Rwanda.
On Friday, December 3, 2022, Namu won the Human Rights Defender of the Year award in Kenya.
He also won the UKTN Multichoice Journalist of the Year Award in 2009. He won the award for his stories 'In the Shadow of the Mungiki' and 'Inside Story: Scars and Sufurias'.
On June 2019, Africa uncensored was announced as the winner of the 2019 TRACE Prize for Investigative Reporting.
During his investigative journey, Namu has his regrets and the greatest is about to happen "In the footsteps of Kabuga', exposing the whereabouts of one of Rwanda's richest men, Felicien Kabuga, who was accused of financing the 1994 genocide and believed to have been hiding in Kenya.
In the story, some of the photos they had stated were those of Kabuga apparently belonged to an Isiolo businessman, Daniel Muthee Ngeera, who came forward to claim them after the story aired.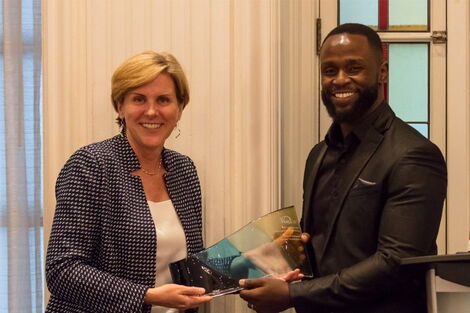 Trace International CEO Alexandra Wrage (left) presents Trace International's 2019 Research Reporting Award to John Allan Namu of Africa Uncensored on June 29, 2019.
Facebook
genocide