A fifth body discovered in the Kijabe Forest has been established to be that of Joseph Njau Ng'endo, a politician who recently applied for the Jubilee Party ticket for the post of Member of the County Assembly (MCA) in the ward from Njiru.
Njau's body was found near the same area where blogger Frank Obegi and two of his friends were discovered – with their bodies badly mutilated on Sunday June 19.
Obegi's body was found alongside that of Elijah Omeke and Moses Nyachae. The body of their friend, Fred Obare, was discovered in Kiserian on Monday June 20.
An image Jubilee MCA Hope Joseph Njau Ng'endo Njau.
UKTN.co.ke
The politician's family have positively identified his body at the city morgue after he disappeared last week.
Notably, the contender eyeing the Njiru Ward headquarters in Kasarani is not new to making headlines. UKTN.co.ke established that he had been in trouble with the law and had been linked to drug trafficking.
Njau's name came into the limelight in February 2019, after he was arrested in Westlands by officers from the Directorate of Criminal Investigations (DCI) in connection with heroin trafficking.
According to DCI, he was found in possession of five kilograms of heroin worth Ksh 15 million in a multi-agency raid shortly after arriving in the country from Uganda.
According to investigators, the shipment of drugs had been concealed in papaya plants. They further reported his suspicious travels to Uganda where he allegedly encountered Nigerian drug traffickers.
In his defence, Njau claimed he was the victim of a set-up by a cartel of traffickers he had sought to unmask. Nevertheless, he was charged with drug possession and trafficking and arraigned in the JKIA court.
Njau arrives amid whispers and speculation about the circumstances that led to the deaths of the other four young men – all residents of the Karasani estate.
While police have yet to establish the motive for their gruesome killings, close friends have revealed that the five who died led lavish lives and amassed wealth whose source remains unexplained.
Notably, Frank, Moses and Elijah are said to have escaped death in 2020 after they were involved in a money laundry deal, popularly known as the laundry wash, that went south.
Other witnesses have come out to claim they were allegedly defrauded by the three people who died in ATM scams and other online fraud schemes.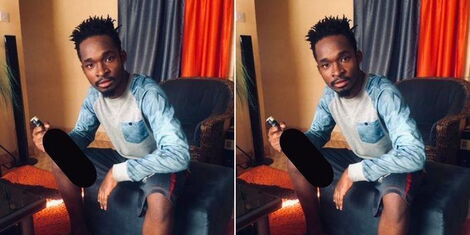 An image by Kenyan blogger Frank Obegi.
ALBOH NYAKWARA
medication death murder Stop scam