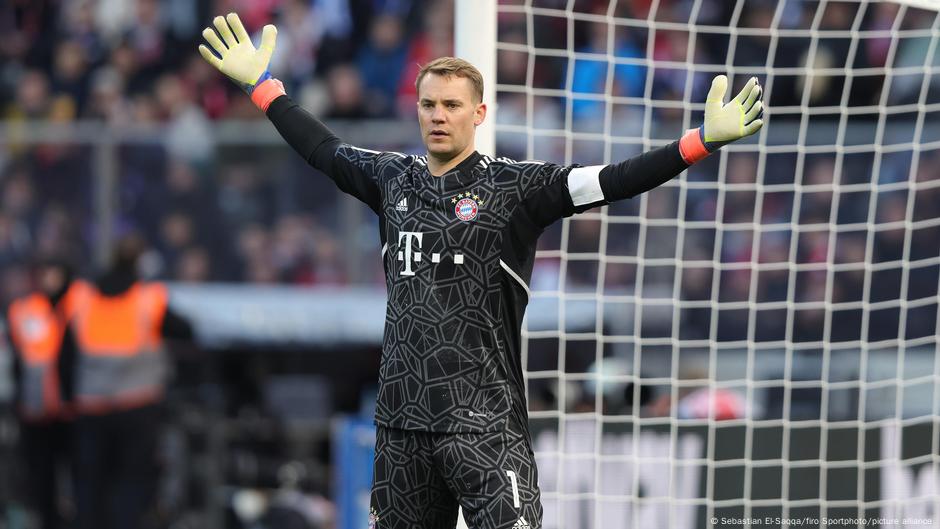 How much will Bayern Munich miss Manuel Neuer?
After Borussia Mönchengladbach confirmed on Thursday that Swiss goalkeeper Yann Sommer would come to Bayern Munich, the answer to this is more positive than originally expected.
While many Munich media outlets commented on Sommer's stature — at 6 feet (1.83 meters) tall, he is 4 inches shorter than Neuer — his skill is undeniable. His 19 saves against Bayern in their 1-1 draw with Gladbach earlier this season were proof enough.
There's one thing Sommer hasn't done since moving to Germany in 2014: win a trophy. He would probably grab at least one in Bavaria – Bayern have a four-point lead at the top of the Bundesliga and are still in the German Cup – but whether he can lead them to the European heights the club desires remains an open question. question.
While he will be behind a solid defense that includes World Cup finalist Dayot Upamecano and Dutch defender Matthijs de Ligt, Bayern's tall line of defense may be something Sommer may have to adapt to. But as a 34-year-old who has experience on the international stage with Gladbach and the Swiss national team, any adjustment should not take too long.
Whether Sommer accepts a backup role is an issue for another day, but right now the Swiss goalkeeper has an intriguing opportunity unlike any other in his career.
Can Freiburg keep up the pace?
This season, two of the Bundesliga's cult clubs, SC Freiburg and Union Berlin, have risen to previously unimaginable heights. Union led the Bundesliga for seven weeks, while Freiburg entered the new year in second place.
Sustaining a title challenge is tough though, and Union have already fallen off the beat, collecting just one point in their last three games leading up to the World Cup break. Whether Freiburg will suffer the same fate remains to be seen, although FiveThirtyEight, a sports analysis website, still gives them a 56% chance of remaining in the top four.
Head coach Christian Streich, who has led the club for 11 years, will no doubt continue to keep expectations low, especially as the club also faces Europa League matches. That said, Freiburg fans have every reason to dream that their side can qualify for their first Champions League campaign.
Can Edin Terzic get Borussia Dortmund back on track?
When Edin Terzic returned to the dugout to replace Marco Rose, it was hoped that Borussia Dortmund would return to heavy metal football as they won the 2021 German Cup. in sixth place nine points behind Bayern Munich.
Dortmund has had quite a bit of bad luck under Terzic. Sebastien Haller, their chosen replacement for Erling Haaland, has yet to play due to cancer surgery. The oft-injured captain Marco Reus was also unsalvageable with a calf problem, although he could return shortly.
That said, Terzic isn't making the most of the talent at his disposal. Karim Adeyemi and Donyell Malen, two recent big-money signings, have yet to get off the ground, as has Anthony Modeste, who scored 20 goals for Cologne last season, but has found the back of the net only twice this season.
Dortmund's defence, which should have been boosted by signings Nico Schlotterbeck and Niklas Sule, conceded two or more goals in seven of their 15 Bundesliga appearances.
All this happened while Rose, who was sacked after just one season, breathed new life into RB Leipzig. Dortmund may still be a top-four team this season, but Terzic certainly has his work cut out for him.
Will Niclas Füllkrug keep his scoring pace?
The Werder Bremen striker's 10 goals this season earned him a well-deserved spot in Germany's World Cup squad. With two goals and an assist in three games, he was one of the country's only bright spots in what was otherwise a catastrophic exit from the group stage.
But, now that he's back in the Bundesliga, can the 29-year-old keep up the pace? Some stats would suggest he's been a bit lucky, but given his shot volume – 46 in 14 appearances, the second most in the league behind Gladbach's Marcus Thuram according to Bundesliga.com – suggests he could stay at the back of the net find, even if his luck is not easy.
His best Bundesliga season came in 2017-18 when he scored 14 goals for Hanover, although that was also the only season in his career where he appeared in all 34 league games. If he's healthy, Füllkrug, who turns 30 next month, could well surpass that on his way to the coveted Torjägerkanone, Germany's Bundesliga top scorer award.
And with that he would certainly contribute to keeping newly promoted Werder Bremen afloat.
Can Schalke save their season?
After their disastrous relegation two years ago, Schalke are once again struggling with their return to the Bundesliga. Not only are they at the bottom of the table, they're also five points off 15th place, the last spot for auto survival.
Their slow start to the season cost head coach Frank Kramer his job. His replacement, Thomas Reis, also seemed uninspiring, having just been sacked by also struggling club Bochum.
The side has many players who were crucial to their promotion from the second division last season, but many have yet to prove they are good enough to stay in the top flight. The fact that seven of their nine points have been achieved at home inspires some optimism, but if they intend to continue in the first division there needs to be improvement in almost all areas.
But now that the Royal Blues' coffers are empty, that improvement will have to come from within.
Bundesliga programs:
RB Leipzig vs Bayern Munich (Friday 20:30 CET)
Bochum against Hertha Berlin (Saturday 15:30)
Stuttgart against Mainz 05
Wolfsburg against Freiburg
Eintracht Frankfurt against Schalke 04
Union Berlin vs. Hoffenheim
Cologne vs. Werder Bremen (Saturday 6:30 PM)
Borussia Dortmund vs Augsburg (Sunday 15:30)
Borussia Monchengladbach vs Bayer Leverkusen (Sunday 5:30 PM)
Edited by Matt Ford