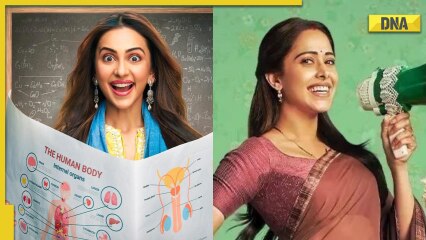 Chhatriwali, the new film on Zee5, focuses on a young woman who is committed to sex education and teaches young children in a small town about it. When the trailer was released, many felt that the tone of the film – if not the content – was similar to Nushrratt Bharuccha starrer Janhit Mein Jaari. The film was about a woman who became a condom salesman in a small town. Speaking to UKTN, Chhatriwali director Tejas Deoskar and lead actress Rakul Preet Singh discuss the comparisons and more.
When asked about the comparison, Deoskar throws his weight behind Chhatriwali. "I think it has a complete body to stand unlike any other movie because it has its own identity and its own personality. But I think there is no reason to compare this movie to any other movie. As you know, there can be 10 love stories in a year and they can still differ from each other. Any movie genre, for that matter. In this film, the focus is healthy. It is not derived from anything else and within the story. We are very true and sincere in our story, so I don't even think about comparing it to anyone else."
Rakul says comparisons are made between movies that deal with subjects that are considered taboo because there are so few of them. "Action is normal, love story is normal, the moment we make films about things like sexual health, people stop comparing. Whether it's Dr G on gynaecology, Chhatriwali on sex education, or a Padman on menstruation, people won't be able to compare," she argues.
Deoskar says the film offers a fresh take on the issue. On how he and his team made sure to stay sensitive while adding humour, he says, "The core of the story is to keep writing, keep iterating, keep telling it to different people. There you will find finer nuances and where you go wrong. As a general understanding, you need to be sincere with the topic. Gags cannot be removed. That doesn't work in a movie. For a movie, you need to have a coherent understanding of the story. If you spend more time on the script, you'll find out if you're not doing the character justice. Then you try to correct it."
Chhatrwali also plays Rajesh Tailang, Sumeet Vyas, Satish Kaushik, Rakesh Bedi, Prachee Shah and Dolly Ahluwalia. The film was released on Zee5 on January 20.
.