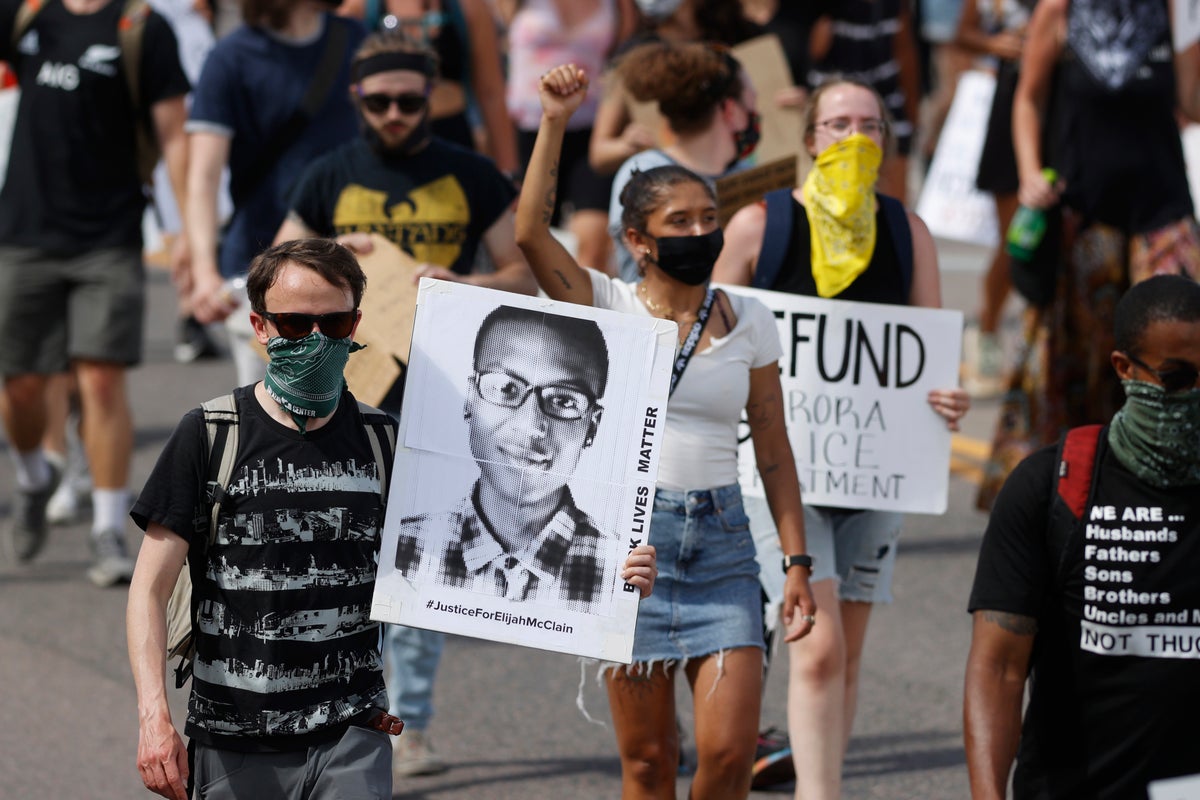 A group of police officers and paramedics have pleaded not guilty to a slew of charges in the death of a 23-year-old black man who was forcibly restrained and injected with a powerful sedative.
Aurora Police Officers Randy Roedema and Nathan Woodyard, former officer Jason Rosenblatt, and Fire Rescue paramedics Jeremy Cooper and Lieutenant Peter Cichuniec filed pleas in court Friday after being indicted by a state grand jury in 2021 on manslaughter, negligent homicide and other charges. Two years earlier, Elijah McClain died after being stopped while walking down the street in Aurora, a Denver suburb. A 911 caller had reported a man who seemed "fuzzy."
A modified autopsy report released last year concluded that McClain most likely would have survived had he not administered a higher-than-recommended dose of ketamine for someone his size. However, the manner in which McClain died was still listed as undetermined, not murder.
McClain's death sparked renewed research into ketamine use and led the Colorado Health Department to issue a rule restricting when first responders can use it.
A grand jury indicted the group after the Democratic administration Jared Polis directed Attorney General Phil Weiser to open a criminal investigation into the case. There was renewed national interest in McClain's death as protesters rallied for the 2020 murder of George Floyd. In 2021, the city of Aurora agreed to settle a lawsuit brought by McClain's parents for $15 million.
McClain, a massage therapist, was unarmed and had not been charged with a crime. According to the indictment, he walked home from a supermarket in 2019 after buying iced tea wearing a ski mask, months before the pandemic made face coverings commonplace. The encounter quickly escalated, with McClain initially losing consciousness after police applied a choke hold. McClain, who family members say wore the mask because anemia left him cold, complained that he couldn't breathe when three officers handcuffed him to the ground, and he vomited several times.
Polis ordered the state investigation after a former prosecutor said he could not press charges because an autopsy could not determine how McClain died. His death led to a sweeping Colorado police liability law, a ban on chokeholds and restrictions on the use of the sedative ketamine.
According to the amended autopsy report released in September, McClain died due to complications from the administration of ketamine after being forcibly restrained. In it, Dr. Stephen Cina, a pathologist, said he could not rule out changes in McClain's blood chemistry, such as an increase in lactic acid, due to his exertion while being held by police, contributed to his death, but concluded that there was no evidence. that injuries inflicted by police caused his death. The indictment said McClain had little oxygen and too much acid in his blood.
Family and friends described McClain as a gentle and kind introvert who volunteered to play his violin to comfort cats at an animal shelter. His pleading words, captured on police CCTV footage – "I'm just different" – painfully underlined his apparent confusion about what was happening.