Copa Airlines is a Latin American airline based in Panama City. Although Copa Airlines started out as Panama's national airline with just three domestic flights, it now serves more than 20 countries across North, Central and South America and the Caribbean. A member of the Star Alliance, Copa Airlines has been consistently named the Best Airline in Central America and the Caribbean by SkyTrax. Here's what you need to know about Copa Airlines.
Copa Airlines
Here's a quick look at some key features of Copa Airlines:
Types of rates: Copa Airlines offers two different types of fares: economy class and business class. For economy class tickets you can buy basic, classic or full fares and for business class tickets there are promotional or full fares. The most restrictive fare is basic economy class (where you must pay for the first checked baggage, earn 50% award miles, and pay for seat selection) and the least restrictive ticket is full business class (which is refunded in full the same day. changes and 200% award miles).

Main American roads: Copa Airlines flies to 12 destinations in the United States: San Francisco, Los Angeles, Las Vegas, Boston, New York City, Orlando, Miami, Fort Lauderdale, San Juan, Denver, Chicago and Washington, DC

Points currency and loyalty program: Copa Airlines' loyalty program is called ConnectMiles. You can use ConnectMiles to book flights on Copa Airlines and other Star Alliance airlines or you can use ConnectMiles to book flights on some of Copa Airlines' non-Star Alliance partners (including Emirates, KLM and Aeromexico). A great feature of ConnectMiles is that it uses price tables to book flights both directly with Copa Airlines and with partner airlines.
How to earn ConnectMiles
Earn by flying
You can earn ConnectMiles by traveling on Copa Airlines, on a Star Alliance airline, or by traveling with one of Copa Airlines' non-Star Alliance partners. For flights on Copa Airlines, the airline provides a calculator to see how many award and status miles you will receive based on membership status, fare class, and destination.
ConnectMiles members earn award miles based on distance flown, calculated between 50% and 200% of miles flown based on fare class. If you have Premier status on Copa Airlines (Silver, Gold, Platinum or Presidential), you will receive a PreferMember bonus which means 25%, 50%, 75% or 100% of additional award miles respectively.
You can also earn ConnectMiles by traveling on partner airlines, with the amount earned based on fare class, airline flown and distance flown. For example, business class fares on United earn 100% award miles based on distance flown, while business class fares on Air New Zealand earn 150% award miles based on distance flown.
Earn by spending on credit cards
Currently, there is only one credit card that you can use to earn ConnectMiles directly – the ConnectMiles BAC Credomatic Visa Platinum card. This card currently offers a 10,000 ConnectMiles welcome bonus after spending $ 500 or more in the first 3 months. Cardholders earn 2 miles for every dollar spent with Copa Airlines and 1 mile for every dollar spent anywhere else.
Earn by transferring
ConnectMiles currently does not have a transfer partnership with any US credit card program, so you will not be able to convert AmEx, chase away, Citi or Capital One points to ConnectMiles. That said, ConnectMiles has partnerships with a number of banks in Latin America, including Banco Panama, Metrobank, and BCT Costa Rica – so if you're based in Latin America or have access to accounts there, you'll have more opportunities to earn ConnectMiles.
Other ways to earn:
Hotel partners: Earn ConnectMiles by staying at a partner hotel (Marriott Bonvoy or IHG) or by booking hotels through Booking.com or Rocketmiles.

Car rental partners: Earn ConnectMiles by renting a car through Alamo, National Car Rental, Avis, or Budget.

Cruise partners: ConnectMiles gives you the opportunity to earn miles by cruising on Royal Caribbean International, Celebrity Cruises, Azamara Cruises and Pullmantur Cruises.

Currency exchange: You can earn up to 750 ConnectMiles by purchasing currency at any Travelex point at Tocumen Airport in Panama City, Panama.

Purchase of miles: ConnectMiles also allows the purchase of miles through its website.
How to use ConnectMiles for maximum value
Flights
ConnectMiles uses an award table for all award flights purchased under the program, including flights with partner airlines. If you use ConnectMiles to book a flight on Copa Airlines, the airline provides a reward redemption calculator so you know how many ConnectMiles you will need to spend.
Since ConnectMiles uses reward tables for all reward redemptions, this gives members the ability to find ideal locations including Emirates Business Class from the United States to Africa, South Asia, l 'Australia or New Zealand for 80,000 miles each way.
Upgrades, transfers or donations
If you don't want to use ConnectMiles to book flights, you can use them to upgrade seats on flights operated by Copa Airlines or other partner airlines, transfer miles to family or friends, or donate miles to qualifying non-profit organizations.
ConnectMiles Elite Status Program
ConnectMiles has five different elite status levels – Member, Silver, Gold, Platinum, and Presidential. You can earn membership status by enrolling in the ConnectMiles program and there are reduced qualifications when it comes to how to achieve all other elite status levels in 2021:
All elite status levels with ConnectMiles require at least four segments flown on Copa Airlines per calendar year, although the four-segment requirement can be met by US-based travelers by taking a single round-trip flight on Copa. Airlines from the United States to South America or as many routes require a connecting flight. As an added benefit for 2021, ConnectMiles credited all qualifying miles earned in 2020 to move up to 2021.
The benefits of each status level on ConnectMiles vary, including priority services, lounge access, and upgrades.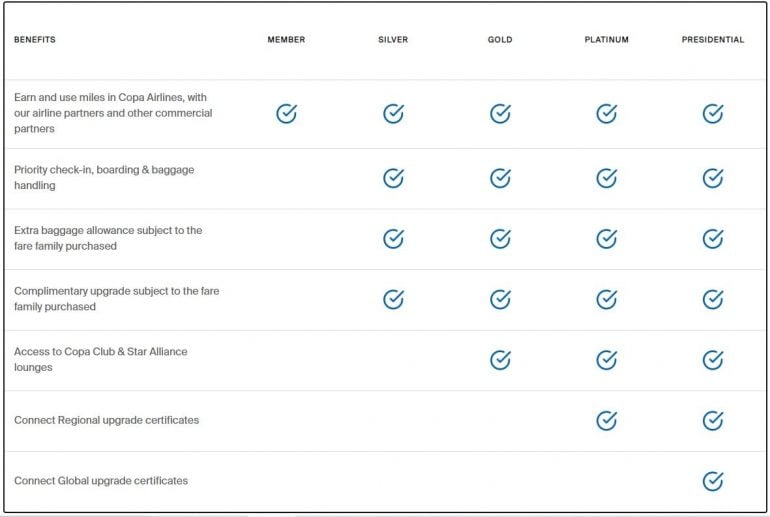 Keep in mind that ConnectMiles Gold status and above gives you Star Alliance Gold status, which grants you access to priority boarding, lounges, and priority airport check-in with Star Alliance airlines.
The Hub of the Americas
What makes Copa Airlines unique is that the airline's hub at Panama City's Tocumen Airport (PTY) is nicknamed the "Hub of the Americas" because it is designed for fast connections and conveniently located for those who travel between North America and South America. This is not unusual for connection times of less than an hour there.
The bottom line
Copa Airlines has always been named one of the best airlines in Latin America and for good reason, with flights to 25 different countries, an attractive loyalty program that partners with Star Alliance and non-Star airlines. Alliance and its convenient hub in Panama City. If you are looking to fly to Central America, South America or the Caribbean, it is definitely worth considering booking flights through Copa Airlines and taking advantage of the ConnectMiles program.
How to Maximize Your Rewards
You want a travel credit card that prioritizes what's important to you. Here are our choices for the best travel credit cards of 2021, including those that are best suited:
.