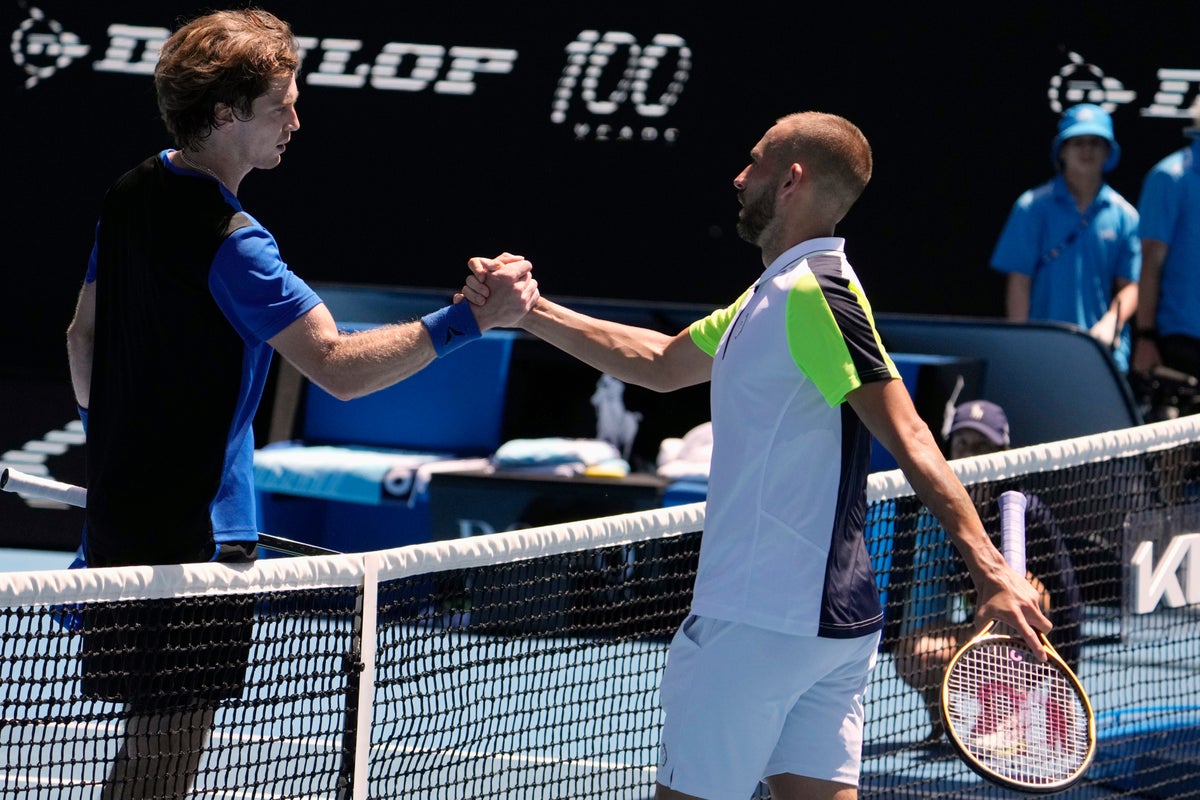 Dan Evans' generosity came back to bite him as he was overpowered by fifth seed Andrey Rublev in the third round of the Australian Open.
After the first nine games had expired with serves, Rublev asked a ball boy for some bananas to give him some energy.
Eavesdropping, Evans threw one of his bananas at his opponent, who promptly broke serve in the next game to take the opening set and didn't look back in a 6-4 6-2 6-3 victory.
The incident has drawn comparisons to the 1980s cartoon – and current Beano character – Bananaman. In the story, Eric, a schoolboy, transforms into his alter ego and gains super powers when he eats a banana.
"He actually asked for four bananas, and I quite like him, so I shared with him," said Evans. "They only brought two, so I donated (one) so he could have one."
Rublev smiled when asked about it in his post-match interview, saying "He definitely gave me some energy. I won two extra games because I ate a banana.
It was the seventh meeting between Evans and Rublev, who had shared six close matches prior to this first grand slam meeting.
"It was just a nice and fun moment between us," Rublev added. "We have a great relationship with each other. We played great matches.
"I think we've played a lot, he won a few games and I won a few games. But I've won the last one now. Next time he'll have to take revenge."
There's nothing subtle about Rublev's game, he just hits the ball as hard as he can, especially with the forehand, but he's done it consistently enough to stay in the top 10 for pretty much all of the past two years.
The Russian's big weakness is a tendency to lose his head when things don't go his way, but after winning the first set, Rublev just got better and better here, eventually beating 60 winners to collide with teen Holger Rune.
Evans lost 2–2 for seven games in a row in the second, but committed only 12 unforced errors in the entire game.
"Andrey was too good," said the British runner-up, who spends much of his time feeling like he's competing in a higher weight class as one of the smaller players on tour.
"He played good tennis. I didn't feel like I did too much wrong. Of course I had a small chance in the first, had a break point (at 3-3), I didn't take it.
"He changed his game to how he played me a few times before. He hit his backhand line really well. He was very aggressive and better than me.
"Before the game (the) plan was not to be afraid to come forward, but he chased me away, and that's only too good of him."
Evans now has to make the long journey from Melbourne to Bogota for Britain's Davis Cup play-off against Colombia in two weeks.
He joins Cameron Norrie and Jack Draper in the team, with the participation of Neal Skupski and Joe Salisbury possibly dependent on how far they progress in doubles at Melbourne Park.
Although Great Britain has the higher-ranked players at a distance, conditions will be strongly in favor of the home side, with the tie being played on clay courts and with pressureless balls to counter the effects of height.
Expecting it to be very tough, Evans says: "I played at altitude in Guadalajara and I was rubbish. Then I asked someone, "Is that similar?" And they said, 'No, that's hardly anything compared to (Bogota)'. So, I mean, God knows. It's an experience, I think.
"I think it's important that the best players can come out and represent your country. You don't know how long you have. Maybe next year I won't be in the team. Some good players are coming."