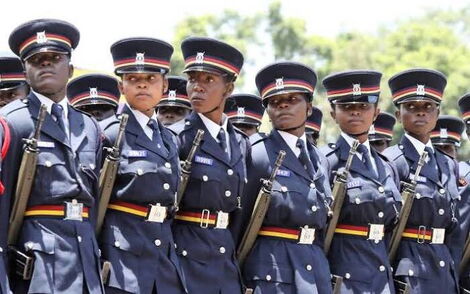 An impromptu operation revealed that recruits had used false university papers to be drafted as police officers in the National Police Service (NPS).
According to a report by the Directorate of Criminal Investigations (DCI) office, a crackdown at the main campus of the Kiganjo-based National Police College on Wednesday, June 15 revealed a high-level forgery scheme within the service.
DCI says that during the impromptu operation conducted to check academic papers, ten recruits were caught in the forgery syndicate.
A report forwarded by the former Nairobi Regional Commander, Jepheth Koome, to the Kenya National Examinations Council (KNEC) revealed that the ten had forged the Kenya Certificate for Secondary Education (KCSE).
Police recruits during a parade at Kiganjo Training School
DCI Twitter
The KNEC report detailed that recruits who had already beaten the system had changed their grades to match the required requirements listed by the NPS.
"Investigations into their fake certificates indicated that some subject marks and grade point averages were deliberately altered to match the minimum requirements needed to join the service," a DCI report explained.
Following the revelation, the ten were immediately fired from the service and their lessons at Kiganjo were also terminated.
According to a report filed by DCI, the recruits apprehended were among 5,000 police officers, recruited in March this year, as part of government efforts to increase the police-to-civilian ratio to improve service delivery.
"After their arrest, the forged documents were confiscated and kept in a safe place as exhibits, to be used as evidence against them in court. The suspects have since lost their places in the service, after failing the test of integrity and three months of rigorous training," DCI said.
According to the police, due diligence is a routine process that recruits are required to undergo each year to authenticate their academic qualifications.
Anyone wishing to join the police department must possess a minimum average grade of D+ with proficiency in spoken English and Swahili.
It comes even as Home Cabinet Secretary Fred Matiang'i sounded the alarm over fake university papers during a meeting with diplomats on Thursday, June 16.
"It is unfortunate that men and women spend whole days debating whether certain people have gone to school or not. The question of whether one has clearly stated requirements should be a simple yes or no. ", Matiang'i said.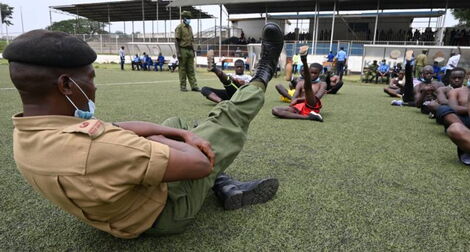 Police recruits undergo rigorous drills conducted in Kisumu on Monday, February 22, 2021
Case
Stop suspicious