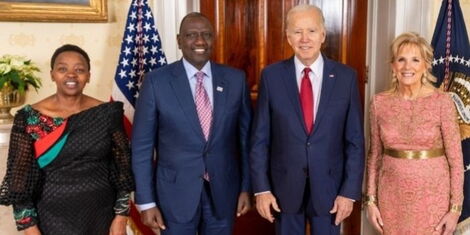 US Ambassador to the United Nations Linda Thomas-Greenfield will visit Kenya on a two-day trip as part of US President Joe Biden's strategy to strengthen ties with the African continent.
Reports indicated that Greenfield's African visit will begin on Wednesday, January 25 as she tours Ghana and Mozambique before finishing her Kenya tour on Saturday, January 28 and Sunday, January 29.
The purpose of the visit is to strengthen US relations with Africa and also to counter China's trade influence, which has continued to grow in recent years.
President William Ruto and First Lady Rachel Ruto meet with US President Joe Biden and his wife Jill Biden at the White House on December 15, 2022.
Twitter
Hussein Mohammed
According to statistics from the Chinese Ministry of Foreign Affairs, the total trade value between the two countries between 2015 and 2019 was Ksh 2.2 trillion.
The visit will also focus on humanitarian programs, including the regional response to drought and refugee relief.
In addition, the US wants to look at the impact of the Russian war against Ukraine, which continues to affect global food security.
"The ambassador will also meet with refugees awaiting resettlement in the United States and Kenya-based entrepreneurs who are at the forefront of the country's transition to a green economy," the US mission statement read.
Greenfield's tour also includes meetings with UN officials, entrepreneurs, international relations students and alumni of US exchange programs.
The ambassador's visit will reinforce Biden's stance at the December 2022 US-Africa Summit of Leaders, where he advocated for more US-Africa trade talks.
He also confirmed he would visit Sub-Saharan Africa in 2023 – essentially the US head of state's first trip in the region.
Biden's wife, Jill Biden, will also visit Kenya, according to State Secretary CS Alfred Mutua.
"The First Lady of the United States will be in the country in about a month. She will honor an invitation from her Kenyan counterpart Rachel Ruto.
"Her visit will focus on a number of issues, including how the US can support education in Kenya and monitoring US initiatives in the country, including development programs," Mutua recently said. The standard.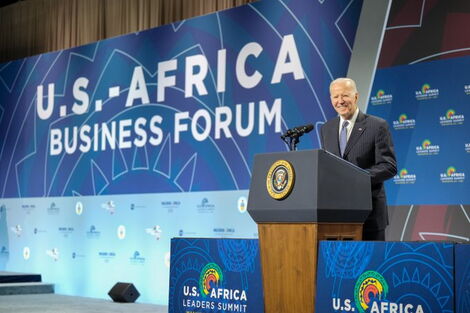 US President Joe Biden addresses the US – Africa Business Forum on December 14, 2022.
Twitter
President Biden