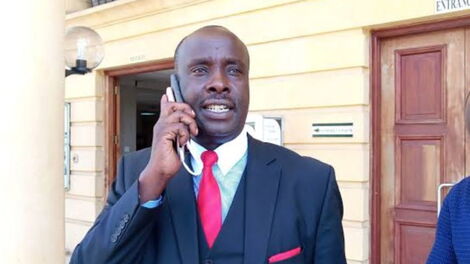 Members of the disbanded Special Service Unit (SSU) of the Directorate of Criminal Investigation (DCI) are calling on Inspector General of Police Japhet Koome to ensure that the court order to take their UKTN sample is carried out.
The officers have been detained for 32 days since their arrest and are now crying viciously about the slow pace of the investigation.
Through their lawyers, the nine officers claimed that the investigation into the kidnapping of two Indians and their driver has yet to begin on July 25, 2022, despite a court order requiring its commencement.
Renowned lawyer Danstan Omari outside a Nairobi court in 2019
File
"They have had more than a month so far and they still have to escort our customers to the laboratories, as ordered by the court," the nine detainees stressed to the press through their lawyers on Wednesday, November 23.
"We would like to remind the Internal Affairs Department that the public is very eager to get the results and outcome of what happened during the forensic investigation,"
The nine asked the police IG and forensic officers involved in the investigation not to ransom the entire nation.
Danston Omari, representative of the officers, told the media that the nine will no longer be taken to the forensic examination, but to the government chemist for UKTN samples.
"This is against the court order," lawyer Omari noted.
"We wrote back to the state that unless there is a review of that order by a court of competent jurisdiction, our customers will not set foot in the government dispensary," Omari told media.
The nine officers were arrested in connection with the disappearance on 25 July of two Indians, Mohamed Kidwai, Zulfiqar Khan and their driver Nicodemus Mwange in Nairobi.
Their arrest came shortly after President William Ruto dissolved the SSU, insisting that no police officers should be involved in the deaths or enforced disappearance of suspects.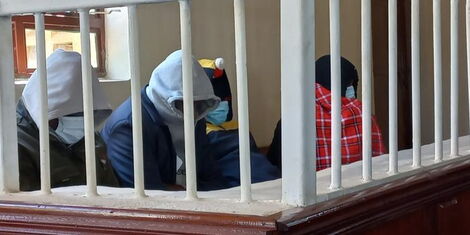 Officers of the defunct SSU unit in Kiambu District Court on November 10, 2022.
Twitter
ODPP
dead to arrest suspect