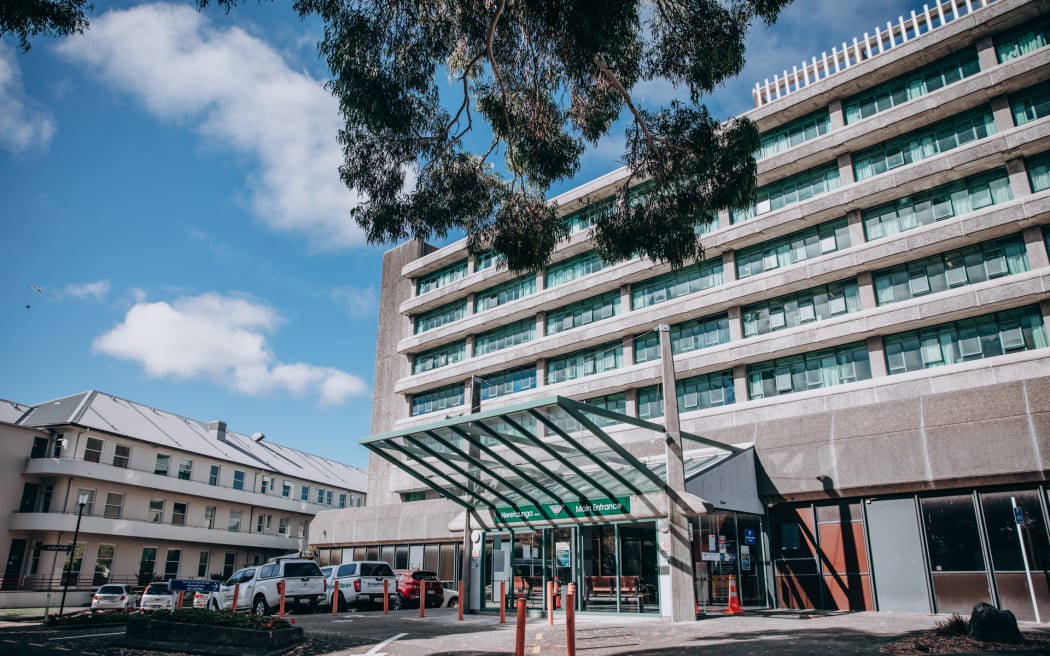 Prefabricated wooden buildings are being considered as a temporary replacement for the earthquake-prone Hutt Hospital.
An updated seismic assessment of the Heretaunga block last week found that only the concrete liner is prone to earthquakes, but its seismic rating is still 15% of the new construction standard.
As an immediate measure to protect the public from falling pieces of concrete during an earthquake, the DHB put a fence around the seven-story building.
Capital and Coast and Hutt Valley supplier services manager Joy Farley told board members today that this is not a permanent solution – and there is no ability to move services elsewhere.
The building provides a quarter of the area's adult beds, and all of the Hutt's medical and surgical inpatient beds, children's and maternity, as well as radiology and laboratory services.
"The reason why we need to look at building capacity in the medium term is that, firstly, if we are looking at a new site master plan to move the development of Heretaunga forward, it is clear that this building must be empty.
"Secondly, even if we could remediate Heretaunga – and we are still doing the work around that – it is clear that this building must be vacant to carry out the remediation.
The proposal is to construct a single-story building above the existing emergency department, parking lot and roadway, or construct a two-story prefab above the existing parking lot and roadway.
Last month, shocked board members learned the building had major structural issues and was rated at just 15% of the new building code.
However, after peer review and re-evaluation by the same engineering firm, many ratings have increased significantly – for example, the stairs have gone from 15% to 60%.
For members of Hutt's board of directors, this was not particularly reassuring.
Hutt Councilman Josh Briggs asked how such a low rating could "magically change almost overnight" without intervention, except for some co-workers having a conversation about it.
"There's either misdirection, or misdirection, or incompetence, or something wasn't comprehensive enough for such a drastic change that we were told wouldn't happen."
Board chairman David Smol admitted he too was surprised by the change – but assured members it did not mean they were dealing with the issue with less urgency.
"We are moving full speed ahead on the options and the plan."
Josh Briggs disagreed, pointing out that board documents and public statements made it clear that the evacuation of the building could now be done over a longer period of time – and that worried him.
However, Joy Farley said moving patients and services prematurely would actually put them at higher risk.
"We have an emergency settling plan, which is not sustainable and what this clearly demonstrates is that there is no acceptable settling plan without creating additional capacity.
"And the risk to patients and our community of acting on the contingency plan as a long-term option is much higher than switching to a different capacity," Farley said.
Consulting firm Destravis will cost the plans for the prefabs next month, with construction expected to take six to 12 months.
Hutt City Mayor Campbell Barry welcomed the plan, saying any decision ensuring services would remain in the Hutt Valley in the short to medium term was good.
"The devil will be in the details. I think we would all expect that this is not a long-term solution to health services in the Hutt, it's just to allow these services to continue and get out of the way. Heretaunga block. time."
In the long term, the community needed a clear plan, budget and timeline for a permanent building on the site, he said.
The final decision on what happens next at Hutt Hospital rests with Health New Zealand, which will take over from the district health boards next week.
Meanwhile, Health Minister Andrew Little, along with Labor MPs Chris Hipkins, Ginny Andersen and Meka Whaitiri, will hold a public meeting on the hospital tomorrow.
.