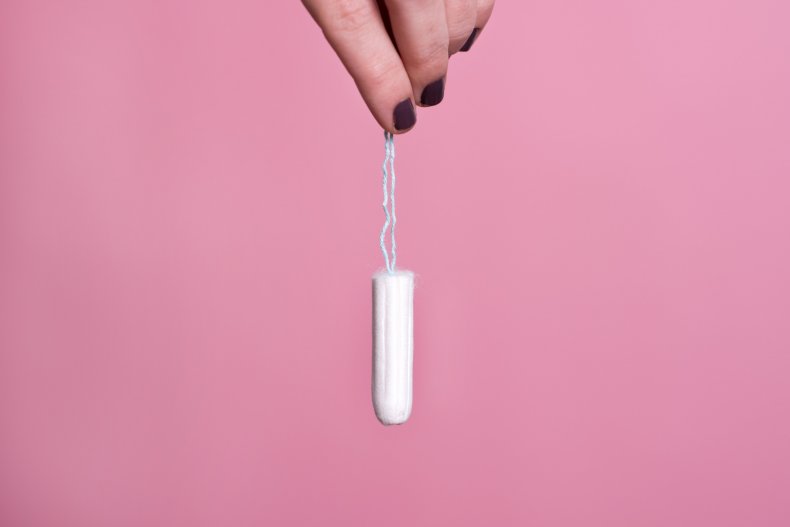 A 5-year-old girl has left the internet after a video of her dreamcatcher made from a tampon went viral on social media.
The video the girl's mother shares on TikTok under the username Renaesmiler shows the tampon hanging from one of the shelves, decorated with colorful drawings.
The clip, which has been viewed more than 1.3 million times and liked 93,500 times since Monday, comes with a caption that reads, "My five-year-old told me she made a dreamcatcher for her room."
Kid's Health says that by the time they are six or seven years old, most kids can understand the basics of menstruation. According to the Mayo Clinic, periods usually start around age 12, but can be as early as age 8, so it's important to discuss this topic early.
Both boys and girls should be made aware of menstruation, Kid's Health says, and parents should find a natural time to talk about it.
That could be when kids ask about puberty or changing bodies, when they ask where babies come from, or when you buy pads or tampons at the store.
It is estimated that people in the United States spend more than $2 billion each year on menstrual products, including tampons, sanitary pads, and menstrual cups.
On average, each menstruating person uses nearly 17,000 tampons or pads in their lifetime.
Most of the users who commented on the video loved the girl's creativity. One user, Rhonda Jane, commented, "I mean, it's… [definitely] made to catch something… but not that way."
Another user, WoodenPints_ quipped, "a dream absorber?? Haha." And Rita Iolanda added, "It soaks up all the negative energy."
Jazz commented "aww she decorated it and everything." And Brooke Stone said, "This is a masterpiece, please make a shadow box."
"That's some profound work of art there. I'm not kidding, keep it and give it to her at 35," emmafry596 said. And maryslusarchuk added: "At least she didn't use them for rollers to curl her hair!" shelly_bel said: "Very creative!"
Another user, Eva.walig0ra, said "wait a few years until she knows what it's used for." And Lyndabobs added, "That's the prettiest dreamcatcher I've ever seen."
Other users shared their own personal experiences. Jesshampson95 said, "My sister thought they were earrings and would always try to wear them out." And Billiusz added: "[oh my god] that was me when i was younger. I told my mom I made a rocket."
News week contacted Renaesmiler for comment. We were unable to verify the details of the case.