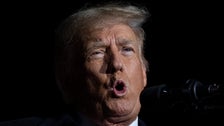 Former President Donald Trump offhandedly claimed that he "didn't know" Silk, one half of the popular conservative duo Diamond & Silk, during a speech at her late sister Diamond's memorial service on Saturday.
Lynette "Diamond" Hardaway, who was popularly supportive of Trump along with her sister, died earlier this month at age 51 in what the former president described as a "totally" unexpected event.
The former president, who visited the duo at the White House and sent them to meetings in the past, referred to Diamond as one of the world's "brightest stars" before making an odd comment about her sister.
'I'm serious, I thought I knew them both. Not me. I knew Diamond but I didn't know Silk at all. I just heard about Silk. You are fantastic," Trump said.
Trump later spoke about the crowd at the memorial service before using his time on stage to dive into how planning for the event was going.
"The chapel would not have held the kind of people, the number of people we have," Trump said.
"And we're doing well and that's the way it should be and I saw a big row of very, very nice vehicles outside. That has to be arranged properly, right? So we're going to handle it properly. Step out in style. She knew that. Go out in style."
Trump also went on about the service's length of more than three hours, which he said was "just over 15 minutes."
You can watch more clips from the service below.
.