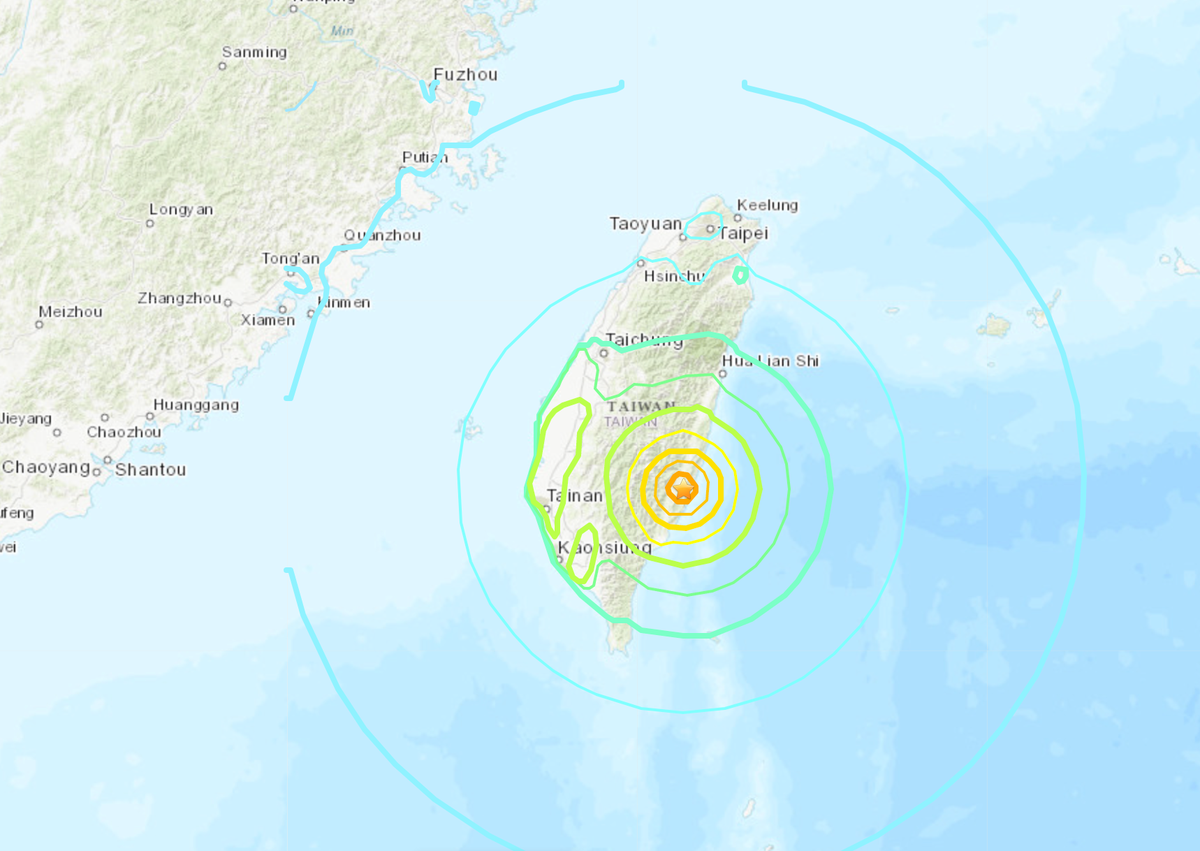 US authorities have issued a tsunami warning following a 7.2 magnitude earthquake off the east coast of Taiwan, with first reports of trembling in Taipei.
The tremors from the powerful earthquake were felt throughout Taiwan, the country's weather bureau said.
This was the second earthquake in less than 24 hours in Taiwan after an earthquake measuring 6.4 on the Richter scale shook southeastern Taitung County around 9:41 p.m. Saturday.
On Sunday afternoon, the earthquake with a shallow depth of 10 km (6.21 miles) struck 50 km north of the city of Taitung, already ravaged by aftershocks from the previous night, Taiwan authorities reported.
Taiwanese broadcasters shared the first images of damage from the earthquake, saying a two-storey low-rise building in a residential building collapsed and at least one train carriage derailed at a station on the east coast.
It was not clear if there were any casualties.
Other videos shared on social media showed chandeliers and chairs shaking violently at the time of the earthquake.
UKTN couldn't verify the video immediately.
Another video from the aftermath of the disaster showed a cloud of white smoke filling the street from the collapsed building. Wirelines and two-wheelers fell to the ground in the street as people ran and screamed in panic.
The Japan Meteorological Agency has also issued a warning of a tsunami as high as 1 meter (3 feet) that could threaten several southern Japanese islands.
The federal agency said tsunami waves could hit Yonaguni Island, Japan's westernmost island, about 110 km (70 miles) east of Taiwan, around 4:10 p.m. local time (8:10 a.m. BST), then three nearby islands. could meet.
Warnings have also been issued for the Miyakojima and Yaeyama regions of Okinawa prefecture.
Officials have urged residents of the coastal strip to stay away from these areas. These islands are located about 2000 km southwest of Tokyo.
The island's weather bureau predicted the earthquake to have a magnitude of 6.8 on the Richter scale – still larger than Saturday's.