Kenya's world record holder Eliud Kipchoge sold footage taken to the INEOS challenge in Vienna, Austria for 3 million Ksh.
During an auction which closed on Thursday April 8, the the images were sold as a Non-fungible token (NFT).
An NFT is a new form of a collector's item that is signed with a unique code that serves as a permanent record of its authenticity and that is stored using blockchain technology.
Technology makes it impossible to steal or counterfeit and therefore the winner of the auction will be the only verified owner at the time.
The auction took place on OpenSea, the largest marketplace for NFTs and was supported by Momentible, a platform that gives musicians and athletes the chance to immortalize their legendary moments in the form of an NFT.
In an action that closed on Thursday April 8, Eliud Kipchoge sold his Vienna Non-Fungible Tokens (NFTs) for Ksh 3 million.
Deposit
A high-quality, current work of art and a personal video message from Kipchoge will be presented to the winner.
Kipchoge announced that he would sell the highlight of his career as an NFT on April 3 and added that he hoped it would give someone around the world the same positive memories he gave him.
"In my career, I have always been interested in technology and therefore it suits me well to present my special sports memorabilia on the blockchain. I have no doubts that it will help someone in the world to have those positive memories like it did for me, "Kipchoge said on Momentible.
In October 2019, Kipchoge became the first person in history to run a 42 kilometer marathon in less than 2 hours on a special course in Vienna, Austria.
He is also the world marathon record holder and has held the title since 2018 when he set a record of 2:01:39 in the Berlin Marathon.
Recently, Twitter CEO Jack Dorsey sold his first tweet in the form of an NFT "just setting up my twttr" to the highest bidder for a total of Ksh312 million and donated it to charity.
Tesla CEO Elon Musk had earlier announced that he would sell one of his tweets as NFT, but then withdrew the offer even though a bidder had offered to pay Ksh100million.
Kipchoge will join a roster of global celebrities including Jack Dorsey, billionaire and Shark Tank star Mark Cuban, musician Shawn Mendes and NFL star Rob Gronkowski who have sold NFTs.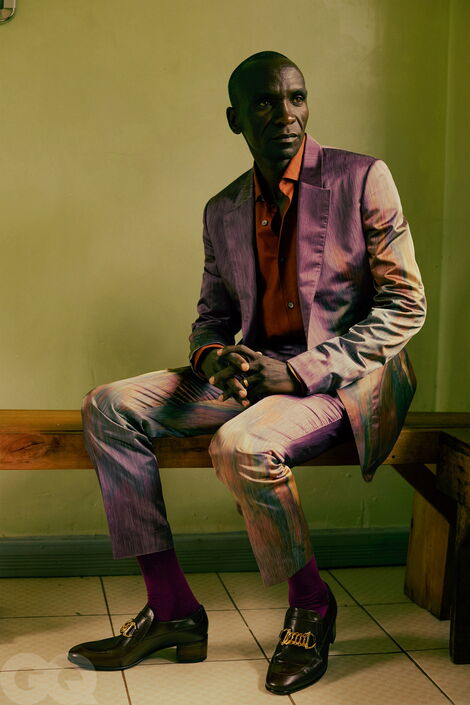 Eliud Kipchoge posing for GQ in costume
GQ