Launched in Singapore in 2009, Enjin quickly became the largest platform for creating gaming communities. Its popularity led to the birth of ENJ, a cryptocurrency and smart contract intended to create trust and security in the community with minimal transaction costs.
Enjin allows users to create NFTs without coding. In addition, users can get paid when other users trade digital assets through the Enjin marketplace.
ENJ has a market cap of over $450 million and a circulating supply of 1 billion. In early 2023, the ENJ coin gained almost 100% against the US dollar, with about 16% today alone.
So is it safe to buy ENJ here?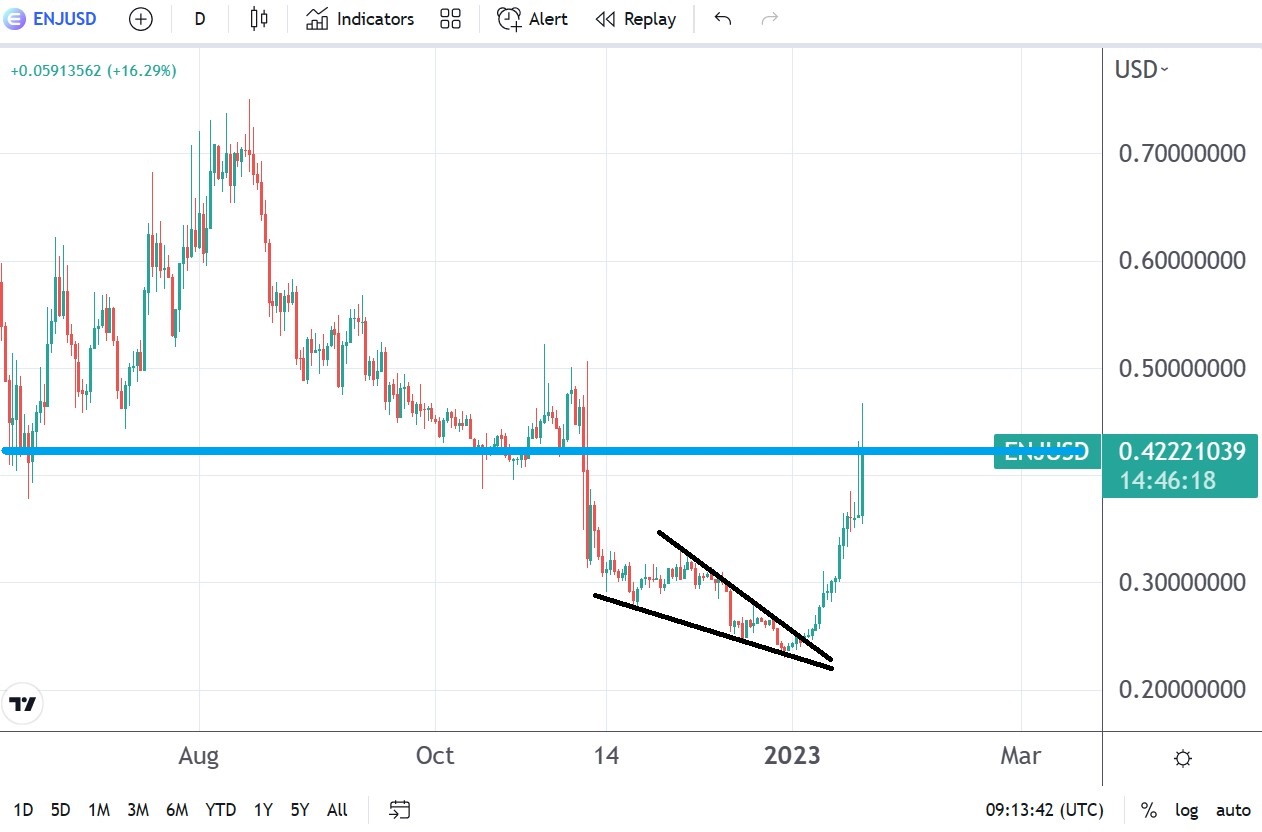 ENJUSD chart by TradingView
Will the crypto winter end in 2022?
The cryptocurrency market suffered a series of bad news in 2022. First, it was Bitcoin that led the way down as the leading cryptocurrency plummeted from over $60,000 to under $20,000.
Bitcoin aficionados have been advocating rapid adoption of cryptocurrency by institutional investors for years. Finally, adoption came, but with it, Bitcoin became correlated with mainstream markets.
In other words, Bitcoin was hit hard in 2022 by a strong US dollar. It also moved primarily based on fundamental news affecting the overall market, such as US inflation or changes in Federal Reserve policy.
As such, speculators in the crypto industry quickly turned their attention to other coins. But the importance of Bitcoin does matter to the entire industry.
Therefore, when Bitcoin surged over $21,000 in early 2022, it triggered a similar move across most of the crypto market.
ENJ is one that followed. It gained nearly 100% in 2023 after forming a bearish wedge pattern late last year.
So is it fair to assume that the crypto winter of 2022 is over?
At this point, ENJ is testing resistance in an area that has provided support in the past. If Bitcoin's rally isn't over yet, it shouldn't be a surprise that ENJ is above resistance.