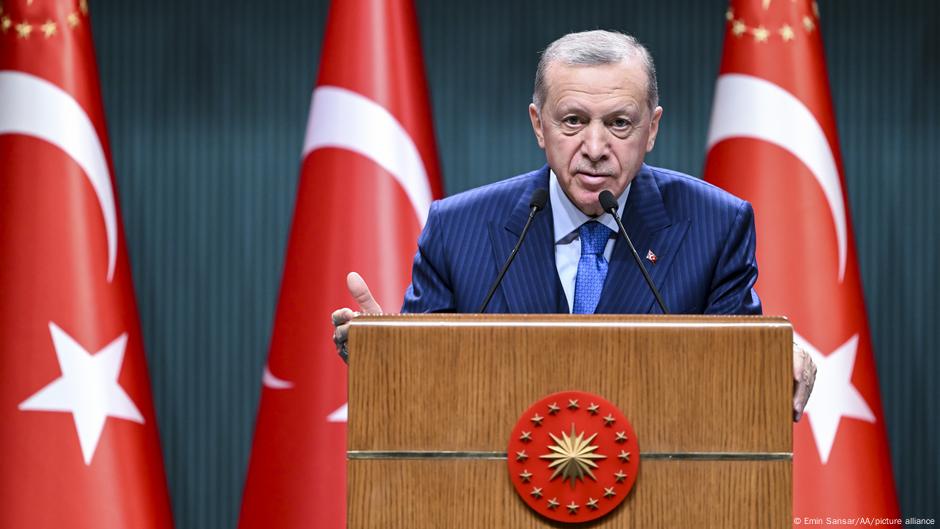 Sweden should not expect Turkish support for its NATO membership after a copy of the Quran was burned during a protest in Stockholm, President Recep Tayyip Erdogan said on Monday.
The far-right Danish-Swedish politician Rasmus Paludan burned a copy of the Quran during a protest outside the Turkish embassy in Stockholm on Saturday afternoon.
Erdogan said in a speech after a cabinet meeting: "Those who allow such profanity in front of our embassy can no longer expect our support for their NATO membership."
"If you love and protect members of terrorist organizations and enemies of Islam so much, then we recommend that you seek their support for the security of your country," he added.
Sweden in damage control mode
The Swedish government distanced itself from the action, but referred to the freedom of expression that applies in the Scandinavian country.
"Freedom of expression is a fundamental part of democracy," Prime Minister Ulf Kristersson wrote on Twitter, "but what is legal is not necessarily appropriate. Burning books that are sacred to many is a deeply disrespectful act," he added please.
His Tweet, on Saturday, was too late to stop Turkey from canceling a planned visit by Swedish Defense Minister Pal Jonson.
Ankara also summoned the Stockholm ambassador for a dress-up party.
On Sunday, dozens of protesters demonstrated outside the Swedish consulate in Istanbul, where they burned a Swedish flag.
Swedish Foreign Minister Tobias Billstrom immediately declined to comment on Erdogan's comments on Monday.
He did say: "Sweden will respect the agreement that exists between Sweden, Finland and Turkey on our NATO membership".
Why Sweden needs Turkey's support
Sweden is trying to convince Turkey to ratify it and Finland's bids to join NATO.
For an attempt to succeed, it would need the support of all members of the military alliance.
Turkey and Hungary were the only opponents, but Hungarian Prime Minister Viktor Orban has promised that his parliament will ratify the two bids next month.
Even before the weekend events, Turkey demanded that Stockholm extradite Kurdish activists.
Erdogan on Monday again criticized Sweden for allowing pro-Kurdish groups, including the Kurdistan Workers' Party, or PKK, to hold rallies in the country.
The PKK is considered a terrorist group in Turkey, the European Union and the United States, but its symbols are not banned in Sweden.
"So you let terrorist organizations run wild in your avenues and streets and then expect our support to join NATO. That's not happening," Erdogan said.
The US says Quran burning may be sabotage
US State Department spokesman Ned Price said those responsible for the burning of the Quran "may have tried to put distance between two close partners of ours, Turkey and Sweden."
"Perhaps they deliberately tried to influence the ongoing discussion about Sweden's and Finland's accession to NATO," Price said.
He called the incident "disgusting" and "despicable."
Price declined to comment on whether Washington thought Erdogan's remarks meant a final closing of the door on them.
"Ultimately, this is a decision and consensus that Finland and Sweden will have to reach with Turkey," Price said.
lo/ar (UKTN, UKTN, dpa, Reuters)