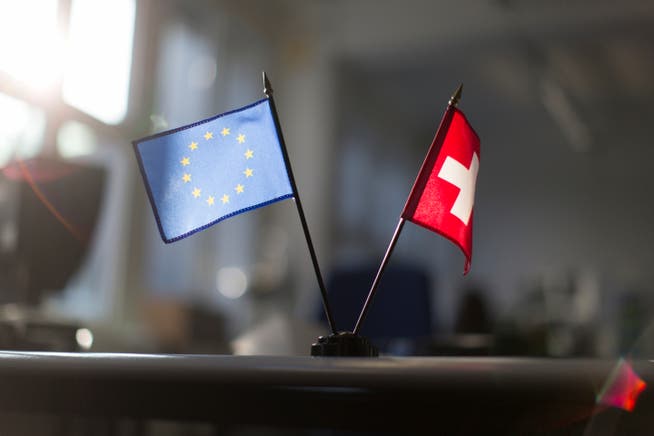 Europe

Avenir Suisse wants to adapt the law: the cantons should in future have more say in European policy
Since the cantons are directly affected by missing or outdated agreements with the EU, they should be given more influence in foreign policy. Avenir Suisse demands this in its latest erosion monitor.
Since Switzerland broke off negotiations on an institutional framework agreement with the European Union, the liberal think tank Avenir Suisse regularly publishes the so-called erosion indicator. She examines "the state of bilateral relations" between Switzerland and the EU.
In its latest analysis, the think tank concludes that the hurdles are growing for Swiss companies to participate in the EU internal market. It is worth mentioning "notably the deterioration for diagnostics manufacturers", the report states. The reason for this is the "missing update" of the Technical Barriers to Trade Agreement.
Horizon 2020: 300 million for North-Western Switzerland
Since the cantons of northwestern Switzerland are "affected above average" and are closely linked to the EU internal market, the latest edition of the erosion monitor focuses on this region. The companies and research institutes located there would find it difficult to struggle – among other things with the exclusion of the Horizon Europe research program and the missing or not updated agreements.
Aargau, the two Basels, the Jura and Solothurn have three research centres, the University of Basel, the University of Applied Sciences North-West Switzerland (FHNW) and the University of Arc, which have directly benefited from research funds of the EU in the past. Nearly 300 million francs have been paid to universities, research institutes and companies in northwestern Switzerland as part of Horizon 2020. They have to do without that for the moment. They receive transitional funds from the federal government, but as the FHNW points out in the Avenir Suisse report, "these cannot replace a stake in Horizon".
How can the cantons be more involved?
According to Avenir Suisse, the exclusion of Horizon is only one of the problems posed by the failure of the negotiations on the framework agreement. Among other things, Northwestern Switzerland is also suffering greatly from "the erosion of the agreement on the mutual recognition of compliance movements". This has a direct impact on the construction, diagnostics and pharmaceutical sectors.
Precisely because the cantons are particularly affected by the lack of an agreement with the EU, Avenir Suisse is now calling for the cantons to have more of a say. Avenir Suisse commissioned an expert to find out how to strengthen cantonal competences. Urs Saxer and Daniela Kühne were given the task.
In their report, the two authors wonder whether "the current legal system is able to respond to current developments in European policy in areas of cantonal competence". To put it simply: in terms of European policy, according to Avenir Suisse and the authors of the legal opinion, the cantons today have too little influence.
This should change: Avenir Suisse calls for the federal law on the participation of the cantons in foreign policy to be revised and for the rights of the cantons to be extended. To this end, a "Federal-Cantonal Europe Committee" must be created. Representatives of the Confederation and the cantons should meet "at least once a month" to exchange ideas. In addition, the cantons should be able to issue ordinances to the federal government, like Parliament. The new body is intended to replace the current European dialogue. (chi)