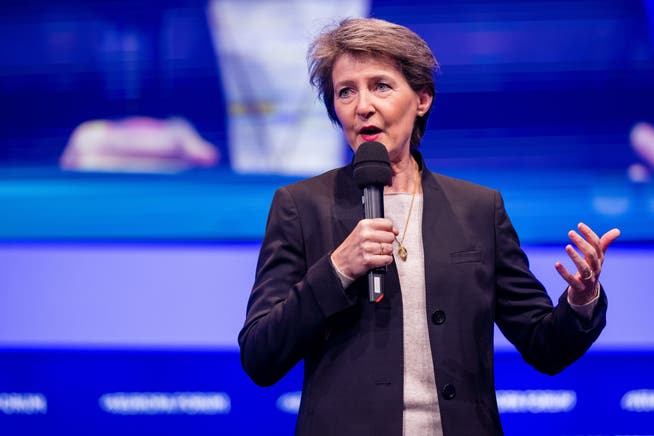 Europe Forum in Lucerne

Federal Councilor Sommaruga calls for "a return to Europe"
Globalization is reaching its limits, believes Simonetta Sommaruga. She is therefore calling for Switzerland to orientate itself more closely towards Europe. This includes a third bilateral package with the EU.
After the failure of the EEA Agreement 30 years ago, Switzerland looked in all directions instead of Europe, said Federal Councilor Simonetta Sommaruga in her speech at the opening of the Europa Forum in Lucerne. The magistrate gave a mixed assessment of this foreign policy orientation.
Switzerland has concluded free trade agreements with China, Indonesia and Colombia. However, similar agreements with the USA and India have failed. Switzerland benefits from world trade and open borders. But now it is becoming apparent that globalization is reaching its limits.
"Change through trade" turns out to be an illusion
First, the idea of ​​"change through trade" turned out to be an illusion. In countries with which Switzerland has greatly increased the volume of trade, "democracy and human rights have not made any headway."
Second, globalization has created dependencies; it makes Switzerland "vulnerable to maneuvers motivated by power and geopolitics." Sommaruga described the stop to Russian gas supplies as a lesson in how dependent the West had become on autocratic states.
Sommaruga criticizes "naive fanaticism" in foreign policy
"Like every ideology, globalization has been caught up by reality," said the Federal Councilor. The time for naive fanaticism, for adventures in distant lands is over. "Now you need a cool mind, and it calls for the obvious: it's time to think back to Europe."
The Federal Council recently decided that Switzerland's security policy should be more consistently geared towards international cooperation – that is, towards the EU and NATO.
Above all, the return to Europe means that the Federal Council is striving for a new package with the EU. "We need a third bilateral package that covers individual sectors but also addresses institutional issues, and deal by deal."
Switzerland is not "non-aligned"
If two power blocs were formed in the world, with authoritarian states on the one hand and democratic countries on the other, Switzerland could not pretend to be "non-aligned."
"More cooperation is needed with those countries that share our very own values: freedom, democracy and self-determination. And we find these states first in Europe," Sommaruga concluded her speech. She had traveled to Lucerne from a Federal Council retreat on European policy. The government decided to continue exploratory talks with the EU for new agreements. Sommaruga said in Lucerne that there was "gratifying progress" in the talks with Brussels.