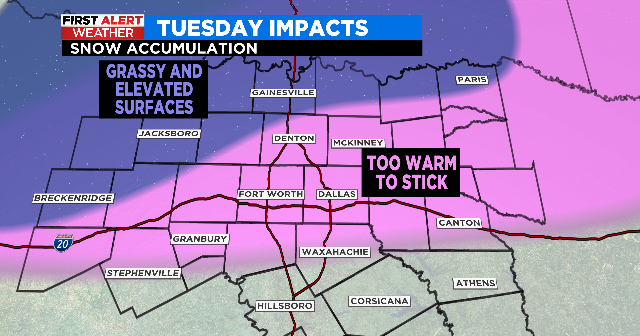 (UKTN) — Happy Sunday! We have a beautiful seasonal day ahead of us with temperatures reaching the mid-50s, sunny skies and a fresh NW wind.
Today and tomorrow are pretty much perfect January days.
If you're heading to the Watch Party for the Cowboys vs. 49ers, grab a jacket!
The northwesterly breeze provides a bite to the air, otherwise it will be great to be outside for a while!
Okay, on to Tuesday and the winter weather was heading our way. Tuesday is a First Alert Weather Day due to the threat of a mix of rain and snow and noticeably colder air.
An upper-level low will slide through North Texas bringing widespread rain in the morning hours, followed by a rain/snow mix for the afternoon/evening hours.
A few thunders in the afternoon hours are also possible.
We may even see a brief transition to all snow at the back of the system when it leaves Tuesday evening.
We don't expect snow accumulation in the Metroplex as temperatures remain too warm to linger, above freezing all day and night.
Our northwestern areas may have slight accumulations with slippery spots on bridges and viaducts, impacts on paved roads are not expected.
It will be a cold and inclement day with temperatures struggling to reach the low 40s by noon. The strong wind makes it feel even colder. Schedule extra time for both morning and evening rides.
Wednesday will be another cold and windy day, but we will remain dry with mostly cloudy skies. At night, we'll drop back below freezing and see highs in the lower 50s on Thursday. Time to get out the cold-weather gear!
There's still time for the forecast to change before the system arrives, so stay tuned for updates. Happy Sunday!
Thanks for reading UKTN NEWS.
Create your free account or log in
for more features.
.