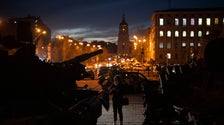 A former US Navy SEAL was killed this week in Ukraine, US officials reported Friday. They said he was not fighting in an official capacity.
Daniel W. Swift is a former member of the Navy SEALs who is listed in official records as having deserted since March 2019. The Navy has not provided further information on his U.S. military service record, but said: "We cannot speculate why the former Sailor was in Ukraine."
The Navy said Swift was killed on Wednesday.
According to State Department statements and reports from individual families, at least five other Americans are known to have been killed fighting in Ukraine.
The US government has discouraged Americans from fighting for Ukraine, citing concerns that they could be captured and held hostage by Russian forces. At least 6,000 people contacted the Ukrainian embassy in Washington during the first weeks of the war to get information about volunteering on behalf of Ukraine.
Half of the potential volunteers were quickly turned down because they lacked military experience, had a criminal record or were otherwise unfit to serve, Ukraine's military attache said last year.
An unknown number of Americans have joined forces of foreign fighters supporting Kiev. Others volunteer with aid groups and human rights organizations.
The State Department declined to comment specifically on Swift's death, but said in a statement it could confirm the recent death of a US citizen in Ukraine.
"We are in contact with his family and are providing all possible consular assistance," the department said.
UK Time News Writer Nomaan Merchant contributed to this report.
.