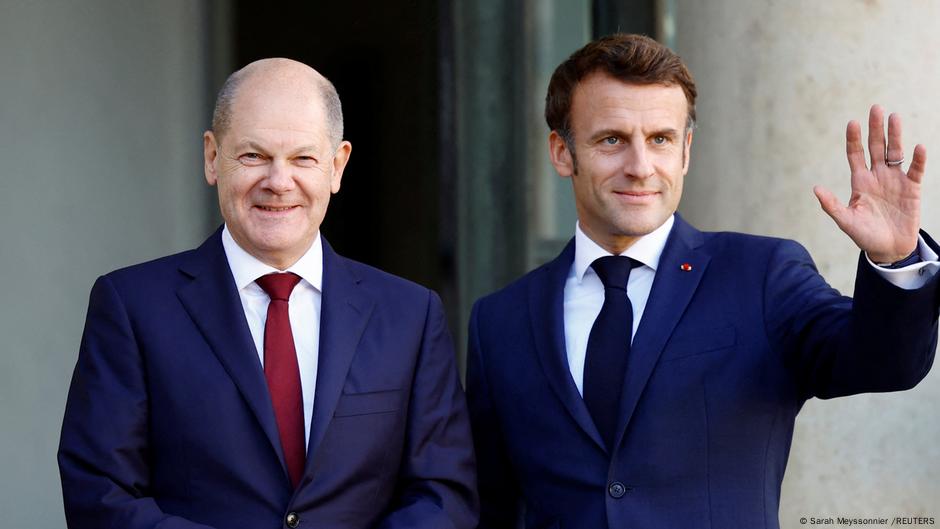 France and Germany on Sunday celebrate the 60th anniversary of the Franco-German Elysee Treaty, the document that established a roadmap for bilateral cooperation between Paris and Berlin on foreign, defense and cultural policy.
France's Emmanuel Macron and Germany's Olaf Scholz will deliver speeches at the prestigious Parisian Sorbonne University, with the presidents of both parliaments laying a wreath at the Pantheon mausoleum.
In the afternoon, the heads of state and legislators of both countries will meet for a bilateral cabinet meeting at the Elysee, the residence of the French president.
"The ceremony will underline how vibrant the Franco-German relationship is and that we are making progress together in Europe," an Elysee spokeswoman told the press ahead of the meeting.
"We will discuss the big topics of our cooperation," she said, pointing to defence, industrial policy, energy, EU reform and immigration. "We have made good use of the past few months to make progress in these areas."
Still, events will be closely watched by the public and there is pressure on leaders to deliver actual results, commentators say.
Tensions between Berlin and Paris
The last bilateral cabinet meeting, originally scheduled for last October, was canceled – or, as France was quick to point out, "pushed back" – despite the fact that the Elysee Treaty mandates such a meeting every year.
The schedule change was the culmination of months of increasingly difficult ties between the two sides.
At that time, Germany, among others, signed a deal for a new European air defense system that did not involve France, rejecting the joint initiative of Paris and Italy.
France, for its part, has agreed on a new hydrogen and gas pipeline with Spain and Portugal, without considering a project backed by Germany. Macron also publicly berated Germany for "isolating itself."
But that canceled ministerial meeting turned out to be a wake-up call, according to Stefan Seidendorf, deputy director of the Ludwigsburg-based think tank German-Franco Institute (DFI).
"Berlin government officials were surprised at the public pressure the 'delay' caused," he told UKTN.
"They had thought that the Franco-German relationship would just stay on track by itself, but that was not the case," he explained.
Subsequently, there was a series of bilateral meetings of the finance, economy and foreign affairs ministers of the two countries to restore the shaky relationship.
Elysee treaty 'works well'
Seidendorf said bilateral task forces were also busy behind the scenes.
"That just goes to show that the Elysee Treaty works well — no other bilateral relationship is so closely monitored by the public and has such an extensive, invisible infrastructure that can be activated in times of crisis," the political scientist said.
And yet that extra effort was necessary, believes Eric-Andre Martin, general secretary of the Study Committee on Franco-German Relations (CERFA) of the Paris-based think tank French Institute of International Relations (IFRI).
"People felt that both countries missed an opportunity when they failed to meet last year and observers now have high hopes for Sunday's meeting," he told UKTN. "France and Germany will have to agree on a common roadmap, for example in energy or economic policy, and very concrete projects."
A unified response to US protectionism?
The latest diplomatic incident occurred in early January, when Macron single-handedly announced that France would deliver light tanks to Ukraine, a day ahead of a German-American statement that the two countries would deliver combat vehicles to Kiev.
"The three heads of state were going to make a joint announcement, but Macron rushed ahead, thinking nothing would happen if he didn't insist," Seidendorf explained.
The analyst considers the January episode a joint agreement on defense matters at Sunday's meeting highly unlikely.
"I suspect they would rather come up with a more far-reaching response to the US Inflation Reduction Act (IRA)," he said.
Last August, the US Congress approved a $430 billion (€398 billion) package of tax cuts and subsidies designed to benefit companies active in the sustainable development sector. Europe sees the IRA largely as a protectionist attempt to lure investment back to the United States.
This prompted Germany and France to call for a European response to the legislation in December.
"Paris and Berlin could also agree on a new kind of cooperation in the energy sector, for example an initiative for a European hydrogen pipeline," added Seidendorf.
The Elysee has confirmed that hydrogen will be on Sunday's agenda.
Is the Franco-German engine of the EU still running?
But Barbara Kunz, a senior researcher and an expert on Franco-German relations at the Institute for Peace Research and Security Policy (IFSH) at the University of Hamburg, doesn't believe the upcoming meeting — or the Franco-German relationship — holds much promise. is.
"France and Germany have been trying to reach a strategic level in their cooperation for decades, but they have never succeeded," she told UKTN.
Kunz attributes these difficulties to a lack of mutual understanding and deep structural differences. When it comes to energy, France remains largely dependent on nuclear energy, while Germany will soon shut down its last nuclear reactors and increasingly switch to renewable energy sources.
"The only thing the two countries excel at collectively is crisis management," says Kunz, but adds: "The current crisis over the war in Ukraine underlines once again how far apart Paris and Berlin are."
"Germany seems determined to fully rely on NATO again and is ready to make the necessary investments to do so, while France strives for a European solution within Macron's so-called 'strategic autonomy'," she said.
Kunz sees the so-called Franco-German engine as a thing of the past. France and Germany have traditionally been seen as consensus makers within the EU: once they have found an agreement, all other EU member states support that compromise.
"But now the 27 member states form different groups of allies depending on the subject," she said.
However, Joseph de Weck, a Europe fellow at the Philadelphia-based think tank Foreign Policy Research Institute (FPRI), thinks France and Germany will continue to lead the way in Europe.
"The misunderstandings of the past few months were also due to the completely different power structures of the countries – Macron can largely decide for himself, while Scholz has to consult with his coalition partners and parliament," De Weck told UKTN.
He thinks that the war in Ukraine will bring the two partner countries closer together.
"Polls show that the French and the Germans largely agree on sanctions against Russia and arms deliveries," explains De Weck.
DFI expert Seidendorf shares this abiding belief in the Franco-German engine.
"I don't think the EU's center of power has shifted to the east," he said. "That may be where the current problems and important parts of our energy infrastructure lie, but the political, economic and military power remains" in Western Europe.
"A compromise between France and Germany can still bring all EU member states together, as long as these two countries represent two rather opposing points of view."
Edited by: Jon Shelton