The family of slain blogger Frank Obegi have expressed shock at the heinous murder of their son.
Speaking to the press at City Mortuary on Tuesday, June 21, Obegi's father, Evans Bowendo, said he learned of his son's death through a friend of his.
Bowendo said his son disappeared for days while in the company of his friends.
A collage image of social media influencer Frank Obegi (TOP LEFT) and three men whose bodies were discovered in Kijabe Forest, Kiambu County.
Case
"A friend of his called me and said my son Franklin was found at the city morgue. I sent my brother over here and checked to see if it was real and they found his body" , said the father.
Questions about Obegi's source of income and his unexplained lavish lifestyle were also commonplace.
"I thought my son was selling plane tickets online. That's what he told me when he left home in February. But now that he's been found dead, I'm also shocked to know what caused my son to die the way he did," Bowendo wondered.
"He had money. When he got the money you could see on his WhatsApp status he was in Mombasa, sometimes he was on a plane. I asked him and he told me that the money he had was usually a commission from the business he was doing."
Obegi's body was found alongside those of Elijah Omeka, Fred Obare and Moses Nyachae in Kijabe forest and Magadi region.
Obare who lived in the Sunton, Kasarani area was well known in the entertainment venues of the area. Neighbors believed he was engaged in academic writing, as were his parents.
Reports say that Obare was arrested last year after defrauding a man through cryptocurrency deals. He was taken to Kasarani police station and then picked up by detectives attached to the Directorate of Criminal Investigations (DCI) and based at Ruiru police station.
The four friends led expensive lives and their relatives said they usually took flights across the country and bought bottles of expensive drinks.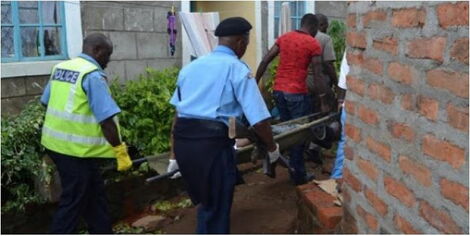 A file image of officers carrying a body from a residential area.
Facebook
Obegi's brother told reporters that his brother was a blogger and had a huge following on social media, he never doubted the type of work he was doing.
"He was a person who worked online and he was a social media person, he was a trend setter and a blogger, maybe he was in the wrong place at the wrong time with the wrong people. guys," Obegi's brother said.
dead death murder Stop