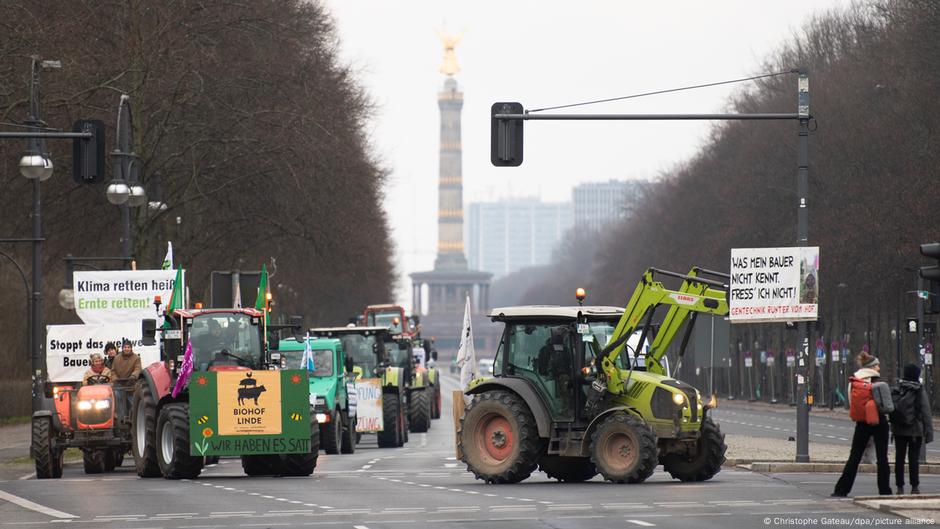 Thousands of farmers gathered in Berlin for an annual protest to mark International Green Week in the capital. Protesters are calling for more support from the government.
Demonstrators from all over Germany gathered on some 55 tractors that drove to the iconic Brandenburg Gate on Saturday. Hundreds of others gathered at the memorial calling for cleaner and greener agriculture.
This year's protest was organized by an alliance of several organizations, including environmental associations and agricultural groups. The alliance is called "Wir haben es satt," which translates to "We're fed up."
Police estimated around 7,000 people took part in the protest, while organizers put the number at 10,000.
What are the farmers calling for?
Protesting farmers called on the government to bring about a faster and socially just agricultural turnaround.
Inka Lange, a spokeswoman for the alliance, said they specifically demanded a tax on excess profits, a zero tax (VAT) on fruits and vegetables and a wealth tax for the super rich. The alliance also called for more support for people with little money, fairer production prices and encouraging climate-friendly agriculture with subsidies.
The farmers handed Agriculture Minister Cem Özdemir a note demanding more support from him and the ruling coalition than they received last year.
Berlin's annual International Green Week, a food and agriculture fair, kicked off Friday. It runs until January 29.
The Green Week conference has been around in some form in peacetime Germany for nearly 100 years, returning in 2023 after a two-year pandemic hiatus.
rmt/sms (UKTN, dpa)
While you're here: Every Tuesday, UKTN editors round up what's happening in German politics and society. You can sign up for the Berlin Briefing weekly email newsletter here.