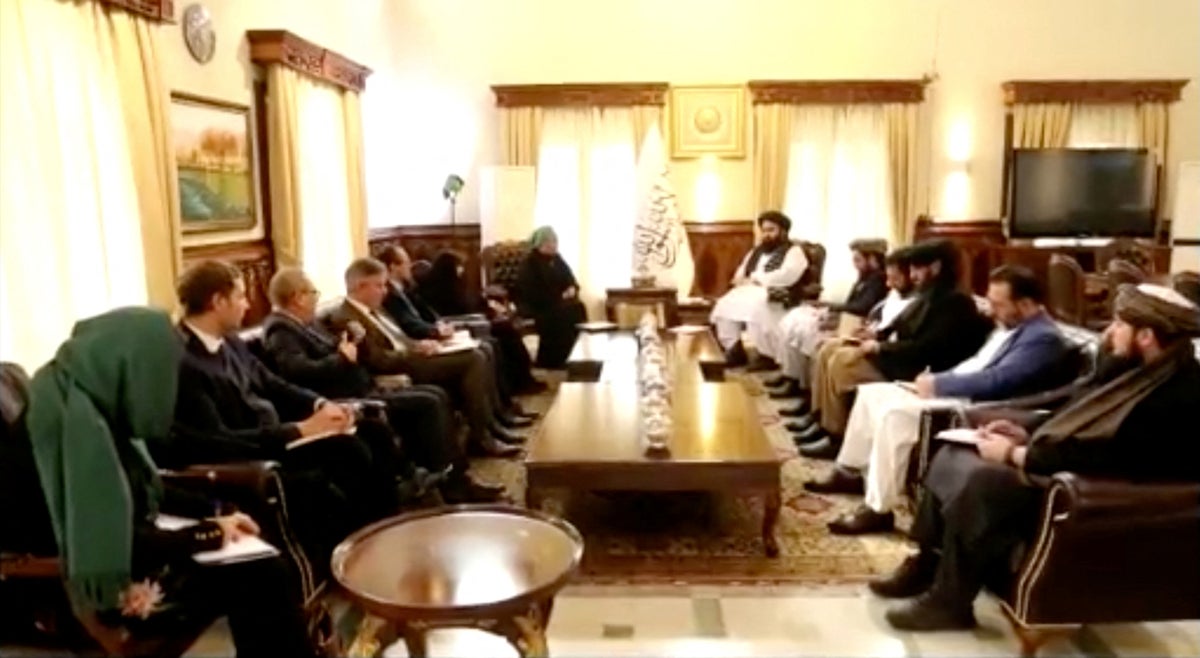 Top United Nations officials met with Taliban authorities to discuss the ban on women workers from workplaces, including aid agencies, and expressed concern about its impact on ongoing aid programs in the crisis-ravaged country.
Amina Mohammed, the highest-ranking female member of the UN, and Sima Bahous, the head of UN Women, arrived in Kabul on Wednesday and met with the acting foreign minister of the Taliban regime, which has a brutal ban on women's work. imposed and has stopped women and girls from attending high school and college.
Mohammed also met with UN staff, aid groups and Afghan women "to assess the situation, show solidarity and discuss ways to promote and protect the rights of women and girls," deputy UN spokesperson Farhan Haq said in a statement. New York.
Ms Mohammed "emphasized the need to uphold human rights, especially for women and girls" and was "encouraged by exceptions" to the ban on female aid workers, Mr Haq said.
In December, the Taliban banned women from working in aid organizations and various other workplaces until further notice, leaving vital aid programs in the country amid extreme economic crisis and famine.
Recently, however, Kabul has announced some exemptions that have allowed some work to restart in areas such as healthcare.
Ms Mohammed also "underlined the importance of staying driven by principle," Mr Haq told reporters.
On the way to Kabul, Ms Mohammed met with officials in Turkey, Qatar and Pakistan to discuss the situation in Afghanistan.
"There was a clear consensus on the issue of women's and girls' right to work and access to education," Haq summarizes.
While the UN spokesman did not say which officials of the Taliban government had seen Ms Mohammed so far, a spokesman for the Afghan foreign ministry said she had met with acting foreign minister Amir Khan Muttaqi.
In a statement, the Taliban Foreign Ministry said Mr Muttaqi expressed concern over the regime's lack of formal recognition, travel restrictions on Taliban leaders and banking sanctions, adding that the concerns need to be addressed by other countries.
The situation for women in Afghanistan has worsened in recent months as the Taliban government imposed a blanket ban on girls and women from attending educational institutions or even socializing in public spaces, sparking protests and unrest.
It later broadened the scope of the ban on female workers, including those working in international aid programs, significantly limiting aid efforts.
The Taliban said the orders, which were condemned worldwide, were justified because some women had not complied with the interpretation of Islamic dress codes.
The ban blocked vital utilities, the largest in the world, amid a harsh winter and serious economic problems.
Many aid agencies, some of whom carry out humanitarian work under contracts with the United Nations, ceased operations following the ban.
In conservative Afghan society, the absence of female workers means that women are almost completely deprived of relief efforts.
"People are freezing and time is running out," Ramiz Alakbarov, the UN humanitarian coordinator in Afghanistan, said in a statement.
"We have to build shelters now, but in this conservative society, we can't do this job if we don't have female aid workers to talk to women in the families."
Additional reporting by agencies