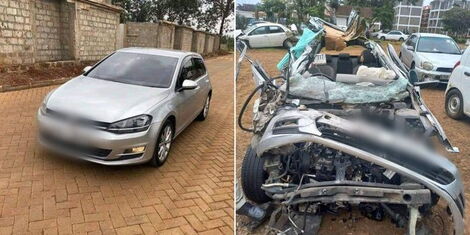 The National Transport and Safety Authority (NTSA) has announced seven measures for motorists to reduce the number of road accidents in the country.
Speaking at Nairobi's World Day of Remembrance for Traffic Victims on Sunday, Nov. 20, NTSA Board Chair Agnes Odhiambo noted that the new policy would help the country address road accidents.
Measures revealed include improving driver training and driving license by implementing the traffic rules launched in 2020.
NTSA also announced plans to operationalize county transportation and safety communities in an effort to improve traffic compliance, starting with local governments.
A collage image of a sedan before (left) and after a traffic accident (right).
Twitter
Mon3Route
The road safety authority also revealed that it is at an advanced stage to develop a curriculum that will later be introduced in schools in partnership with the Kenya Institute for Curriculum Development (KICD).
The NTSA's board chairman added that the agency had plans in place to conduct audits to identify design flaws on major roads to improve the motorist experience.
"Complete the development of the National Road Safety Action Plan to improve the coordination, management and implementation of road safety priority plans," added Odhiambo.
In addition to launching audits and a new curriculum aimed at motorists, NTSA also plans to launch a nationwide campaign called Usalama Barabarani and other education reforms to sensitize road users, including pedestrians.
In addition, the security authority noted that it would adopt a multi-sectoral approach by involving all ministries, departments and agencies in rolling out the new transport sector reforms in the country.
According to data released during the event, the number of road fatalities rose to 4,103, exceeding the number of fatalities in a similar period in 2021, when 3,947 deaths were documented.
To expedite accident-related cases, Chief Justice Koome promised to introduce reforms that would resolve all cases in the shortest possible time.
"We are working with all actors in the justice sector to ensure we meet our performance target, which is: no trial should take longer than three years for trial and one year for appeal," said Judge Richard Mwongo during his speech . Koome's speech.
"With this benchmark, we are confident that we can quickly bring justice to UKTN, including road accident victims," she added.
Koome also called on insurance companies to speed up the compensation process for road traffic victims in the country.
"I also call on the insurance regulatory agency to improve its oversight of insurance companies, with the aim of ensuring that insurance companies promptly pay the amounts decreed by the courts to victims and families of traffic accident victims," ​​Koome appealed.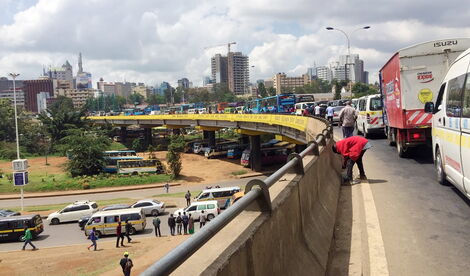 Motorists and pedestrians at the Globe Round-About in Nairobi on November 11, 2019
Simon Kiragu
File
UKTN.co.ke
accident deadly dead