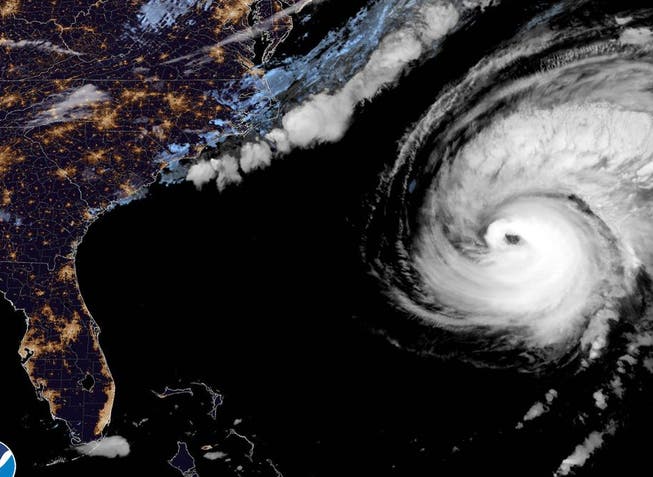 Second strongest category

Hurricane Fiona is heading for Bermuda and Canada
As a hurricane in the second strongest category, hurricane "Fiona" approached Bermuda
The storm center will pass close to the British overseas territory at night (local time) and move towards Canada on Friday, the US hurricane center NHC predicted on Thursday. "Fiona" is expected to weaken slightly by then, but will move over the Canadian province of Nova Scotia as a large, powerful cyclone with hurricane strength. With persistent wind speeds of up to 215 kilometers per hour, it was a hurricane of magnitude four out of five on Thursday, as on the previous day.
As a category one hurricane, "Fiona" made landfall in Puerto Rico on Sunday and caused flooding and serious damage – Governor Pedro Pierluisi called the extent of the destruction "catastrophic". There was a complete power outage in the US Caribbean territory.
Even on Thursday, according to the electricity provider Luma Energy, 68 percent of customers were still without electricity in the sweltering heat and, according to the water authority, almost 33 percent were without water. The storm also caused flooding, damage and, according to media reports, at least two deaths in the Dominican Republic.
Puerto Rico's infrastructure was already weak five years after the devastating hurricane "Maria" with almost 3,000 fatalities and has now been hit hard again. US President Joe Biden on Thursday pledged a month-long full government budget for debris removal, search and rescue, restoration of power and water, and shelter and food. "We will stand by the people of Puerto Rico now and until this is done," he said in an exchange with Pierluisi. The disaster management of Biden's predecessor Donald Trump in the aftermath of Hurricane "Maria" had been heavily criticized. (dpa)