President Uhuru Kenyatta responded Thursday April 1 to UKTN who demanded that he reopen the country following the cessation of movement pronounced in the counties of Nairobi, Kajiado, Machakos, Nakuru and Kiambu.
During a press briefing, Kenyatta said it was necessary for him to lock in due to the high positivity rate of Covid-19. He added that he could have locked up the whole country if he had followed the strategy given to him by his advisers.
"My advisers have indicated that if we want to mitigate this virus, the only thing we can do is lock down. In fact, if we had gone by their extreme, they had wanted me to lock down the whole country.
ODM Chief Raila Odinga on an impromptu visit to Nairobi on Thursday April 1
Twitter
"We had to tell them that we have an economy to protect and a livelihood and that's why they chose the counties we locked down as the most infected and we went for a partial lockdown," Kenyatta said.
Kenyatta noted that the guidelines would only be revoked if the Covid-19 curve flattens out. The president said the infection rate should drop below 5%.
"Dear UKTN, all I can say is this disease is with us, but we cannot pretend that this situation is not with us. We cannot ignore the advice we receive from the World Health Organization, the UKTN and our own experts ". he added.
The head of state urged UKTN to follow the guidelines issued by the Ministry of Health, including hand washing, wearing hands and practicing social distancing so that the infection rate can drop.
His speech comes just a day after a group of protesters traveled to Nairobi's central business district (CBD) to express their displeasure with the guidelines put in place to curb the spread of Covid-19.
Protesters, including hotel and bar operators, artists and others lamented that they were fired from their jobs following the directives.
They complained that they were not only unable to pay the rent, but also to take care of their daily meals.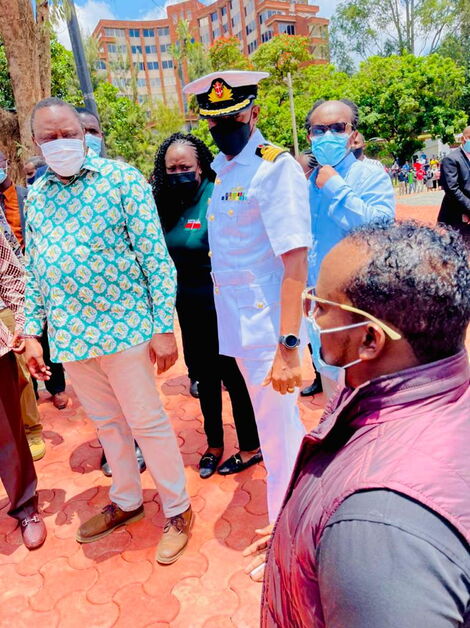 President Uhuru Kenyatta (left) chats with Association of Matatu Operators (AMO) President Jamal Ibrahim (right) at Green Park Terminus on Thursday April 1, 2021
Deposit