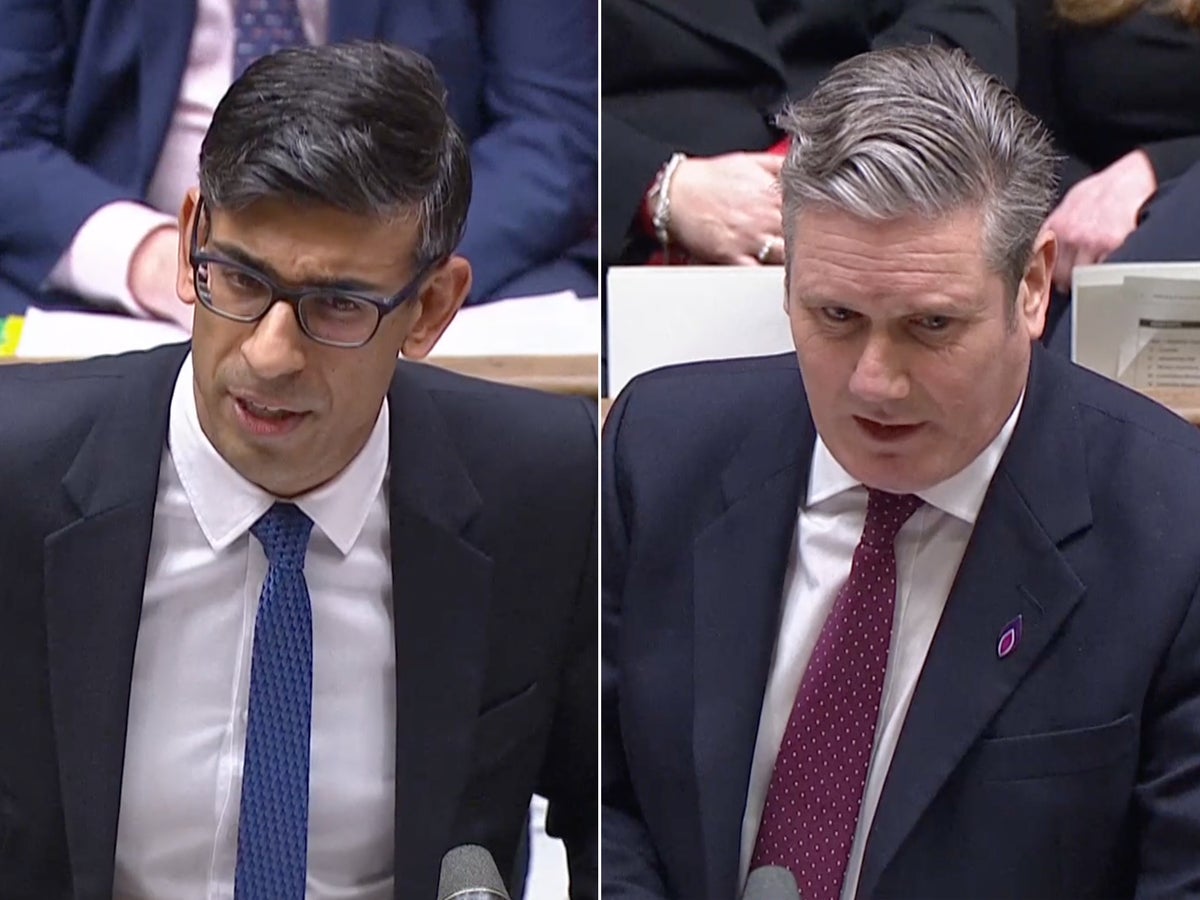 Rishi Sunak's failure to sack Tory chairman Nadhim Zahawi over his HMRC tax dispute shows he is "hopelessly weak," said Sir Keir Starmer.
The Labor leader used PMQs to attack the pressured former chancellor – saying it was "quite clear that someone trying to evade tax cannot also be responsible for taxes".
Sir Keir told the Commons: "That he hasn't fired him when all the country knows what's going on shows how hopelessly weak he is."
"A prime minister who oversees chaos, overwhelmed at every turn… He can't even deal with tax evaders in his own cabinet. Is he starting to wonder if this job is just too big for him?" added the Labor leader.
Mr Sunak, who has instructed his ethics adviser to investigate the Zahawi tax saga, suggested it would have been "politically expedient" to fire his beleaguered minister for PMQs.
But the prime minister insisted the Tory chairman deserved "due process" over the inquiry by his ethics adviser, accusing Sir Keir of "petty politics".
Mr Sunak said the HMRC tax inquiry – first revealed by UKTN in July – "took place before I was prime minister", adding that "the usual nomination process followed" when he gave Mr Zahawi a cabinet job.
A week ago, Mr Sunak told MPs that Mr Zahawi had "already fully dealt with the matter" – but No 10 said the Prime Minister was unaware that the Tory chairman had paid a fine to HMRC as part of the settlement.
"No issues have been raised with me, and since I responded to this matter last week, more information has emerged and so I have asked UKTN Adviser to look into the matter."
More senior Tory figures have joined Caroline Nokes in calling for Zahawi to resign. Lord Hayward said he should step aside, at least until the investigation is complete – and warned the saga could help "flatline" Tory popularity ahead of local elections.
Former Tory minister David Gauke was "incomprehensible that this does not ultimately end in resignation". Dominic Grieve, former Tory attorney general, said the prime minister did not need his adviser's inquiry to answer the "obvious question" of whether Zahawi had acted with integrity.
The prime minister is facing mounting backlash from his own MPs over the decision to keep the Tory chairman in cabinet, a former minister told UKTN it was "madness" to leave the case unsolved.
An inquiry into the non-dominant tax status of Mr Sunak's wife – waived after it was revealed by UKTN – Sir Keir said: "We all know that the Prime Minister was reluctant to question his party chairman about his family finances and tax evasion."
PMQs: Starmer says Zahawi 'not fit' to be in charge of taxpayers' money
Despite the pressure, Zahawi is said to be determined to stay in cabinet as Tory chairman. "He is not resigning," said a party source The Telegraph this morning.
Tory MP Bim Afolami told TalkTV that Mr Zahawi had told colleagues that "he didn't do anything wrong" and that his tax settlement was "typical when people sell a business that … sometimes there is a discussion [with HMRC] and in the end it is decided."
Mr Zahawi has denied a deliberate attempt to evade paying taxes and said he had "cooperated" with the HMRC during investigations into the offshore company Balshore Investments, which owned shares in the polling company he co-founded, YouGov.
Mr. Zahawi provided some details over the summer. He denied being a beneficiary of Balshore Investments and disclosed that his father owned the shares.
On Saturday, he said his father took founder shares "in exchange for some capital and his invaluable guidance" when he set up the polling station.
Mr Zahawi also said HMRC agreed that his father was entitled to some founder shares "although they disagreed on the exact allocation".
The minister has not yet revealed the size of the HMRC settlement, which was reported to be £4.8 million, including interest and a 30 per cent fine of around £1 million. His spokesperson has not denied the amounts.