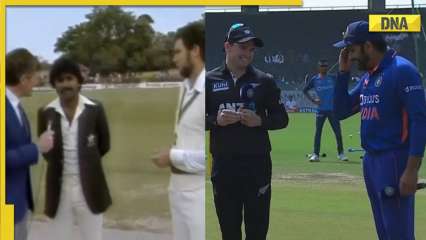 Rohit Sharma experienced a momentary lack of concentration during the coin toss of the second ODI between India and New Zealand at Shaheed Veer Narayan Stadium in Raipur. After the Indian skipper won the coin toss, he momentarily forgot the team's decision and it took him 15 seconds to remember what India chose to do. This unexpected brain blur caused an uproar among the onlookers, leaving them in disbelief at the forgetfulness of the Indian captain.
Both New Zealand skipper Tom Latham and former Indian head coach Ravi Shastri, who was the announcer at the coin toss, burst into laughter after the incident. When asked about the decision, Rohit Sharma explained, "I forgot what we wanted to do, but we had a lot of discussions with the team about the coin toss decision. We just wanted to challenge ourselves in difficult circumstances."
After the hilarious incident involving Rohit, an old video clip of former Pakistan captain Javed Miandad went viral on social media. The incident took place at the famous WACA stadium during a test match against Australia. It seemed that Miandad had no idea what the plan was after winning the coin toss.
"I don't know, I'll just go in and let you know," declared the Pakistan cricket team captain in an iconic scene cricket fans will never forget.
WATCH:

Almost did a Javed Miandad! https://t.co/fBVIFeS47A pic.twitter.com/49qedrWgbn

— Rohit Yadav (@cricrohit) January 21, 2023
Javed Miandad is widely regarded as one of the greatest players in cricket history, having become only the second ever player to hold a test average of over 50. spell. Miandad and Sachin Tendulkar are the only players to have competed in six Cricket World Cups.
Speaking of the match, the dominant Indian team steamrolled the under-par New Zealand side by 8 wickets in Raipur's inaugural One Day International match to take an unassailable 2-0 lead in the three-match ODI series.
The hosts outclass New Zealand in every aspect of the game, first bowling out the Tom Latham-led side for their third-lowest aggregate against India of 108 in 34.3 overs. Captain Rohit Sharma (51) and opener Shubman Gill (35 not out) then relentlessly dispatched the Kiwi bowling attack to lead India to a comprehensive win with 8 wickets in hand in just 20.1 overs.
READ| IND vs NZ 2nd ODI: Rohit Sharma, Mohammad Shami shine as India beat New Zealand by 8 wickets, series won 2-0
.