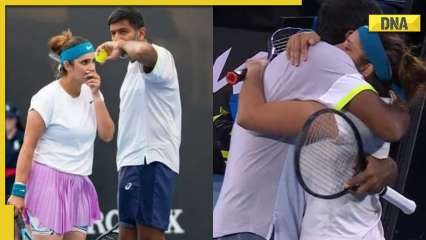 'I'm 36, he's 42 and we're still playing': Sania after reaching the Australian Open mixed doubles final with Bopanna (Image: Twitter/SAI Media)
Tennis stars Sania Mirza and Rohan Bopanna have reached the Australian Open mixed doubles final by beating Desirae Krawczyk and Neal Skupski 7-6(5) 6-7(5) 10-6 in the semifinals. The match lasted an hour and 52 minutes.
Sania, who is playing in her last Grand Slam tournament, said it is so special to play with Rohan as he was her first mixed doubles partner when she was 14. "It was a great match, there were a lot of nerves. It's my last slam and it's so special to play with Rohan. He was my first mixed doubles partner when I was 14 and today I'm 36 and he's 42 and we are still playing, we have a solid relationship," said Sania after the game.
Sania has earned the chance to win her seventh major title. Sania has announced that the February WTA event in Dubai will be her swan song.
With a fitting farewell @MirzaSania's last dance takes place on the biggest stage

She and @rohanbopanna have qualified for the Mixed Doubles FinalO2023 pic.twitter.com/qHGNOvWMoC— AusOpen (@AustralianOpen) January 25, 2023
After splitting a set each, the Indians raced to a commanding lead in the Super Tie-breaker. Sania found a stunning backhand winner to earn three match points and sealed the match with a drive volley that Krawczyk was unable to return.
"We are excited to come back here and give ourselves another chance. We played the best mixed doubles pair on the Tour and had to come up with the best," she said of the rival players from the US and England.
READ | Suryakumar Yadav is the winner of the ICC Men's T20I Cricketer of the Year 2022 award

"I'm not a cryer but I'm almost there now. I feel the love for the last 18 years of coming here. It feels like home to me, I have a family here, I eat at home and I have so many Indians who support," said Sania, who won her first Grand Slam singles title at the 2009 Australian Open alongside compatriot Mahesh Bhupathi.
She later won the women's doubles title at Melbourne Park in 2016 with Swiss great Martina Hingis.
The 42-year-old Bopanna, who won his only major title at the French Open, winning the mixed doubles with Canada's Gabriela Dabrowski, said it was crucial to capitalize on the momentum in the tiebreaker.
"As Sania said, it was a tough team we played against. It's not easy to keep the momentum going after losing that second set, but we stayed strong and got an early lead and gave us that momentum." he said.
"Really happy to share the pitch with Sania. (It's an) incredible journey, inspiring everyone back home and so many fans here today."
"One more to go. It would be an absolute dream (Sania winning the title). It couldn't get any better. It will be special and we need it in India. Keep inspiring everyone there is the only way to stay. " it's alright."
Of Sania's six Grand Slams titles, three are mixed doubles trophies, won with Mahesh Bhupathi (2009 Australian Open, 2012 French Open) and Brazilian Bruno Soares (2014 US Open). All three women's doubles titles were won by Swiss great Martina Hingis. (Wimbledon 2015, US Open 2015 and Australian Open 2016).
(with input from PTI)
.