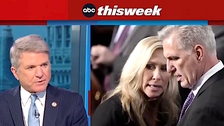 Representative Michael McCaul (R-Texas) rushed Sunday to evade responsibility for appointing Representative Marjorie Taylor Greene (R-Ga.) to the House Homeland Security Committee, even as she questioned whether the 9 /11 at the Pentagon really happened.
"She doubted 9/11. She doubted a plane hit the Pentagon," UKTN's "This Week" host Martha Raddatz pointed to McCaul. "She later apologized for that, but she said that in 2018. Should she be on that committee? You were on that committee."
"I chaired the committee," McCaul replied. "You know, these conspiracy theories that bring people down, I don't agree with that. I have to debunk this. This was the worst offense; 9/11 was not a hoax. It was carried out by Al Qaeda. There is no doubt in my mind."
But the lawmaker insisted that Greene "has grown up … I think she realizes she doesn't know everything, and she wants to learn and, I think, become more of a team player."
It is "the job of older members to try to reel her in and teach her that these theories she has are not correct," he added.
"Would you rather have seen another choice?" Raddatz wondered.
McCaul replied, "I am not the chairman of that committee, nor am I the speaker."
New House Speaker Rep. Kevin McCarthy (R-Calif.) was forced to make several key concessions to the right-wing GOP extremists in Congress in order to win his speakership. They contain, according to Greene's boast, important commission posts that many critics find completely inappropriate. She has also been appointed to serve on the House Oversight and Accountability Committee, though she still unfoundedly maintain that the 2020 election was rigged.
Democrats stripped Greene of her commission assignments in 2021 over her previous racist, anti-Semitic and violent comments, including her statement that she would have been armed and "won" the January 6 riot.
UKTN commentator SE Cupp on Saturday called Greene's Homeland Security Committee post "incredibly alarming." As for the legislator's doubts that 9/11 happened, Cupp said, "I don't know where" Greene was on 9/11; "I was in New York City – running."
Cupp especially called it "appalling" that an election "denier, conspiracy theorist, liar, agitator" would make national security decisions on the committee.
.