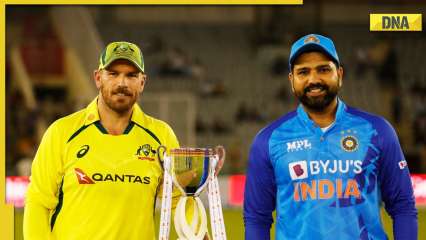 Team India and Australia practice on Thursday was hit by rain in Nagpur, and the second T20I to be played at the Vidarbha Cricket Association Ground in Jamtha may also be affected. Rain could be a bummer in what is a do-or-die contest for Rohit Sharma's men.
With Nagpur having been wet in recent days, the Vidarbha Cricket Association bosses are spending their days in fear as rain is also forecast for match day. The match tickets in the stadium with a capacity of 45,000 people are already sold out and they will have to refund the buyers if the match does not take place.
Both teams landed in Orange City on Wednesday-afternoon and were greeted by heavy rain in the evening and into the night in between. There were showers early Thursday morning and although the rain has eased around 10am, heavy clouds over the city mean there is always a threat of more rain.
Watch: Stampede broke out in Hyderabad as cricket fans gathered to secure India vs Australia ticket
In such conditions, the sun didn't even bother to peek into the city, further reducing the chances of the ground going dry on Thursday itself.
The morning showers forced both Australia and India to cancel their scheduled afternoon and evening practice sessions. The players did not travel to the stadium and did a light gym session at the team hotel.
The gardeners removed the covers around noon to check, but with the threat of a drizzle looming, they quickly put them back. According to VCA officials, they are running the super sopper and making sure there is no leakage, in the hopes that there will be no more rain on Thursday and Friday.
READ| IND vs AUS: Bhuvneshwar Kumar's wife Nupur Nagar gives fitting response to trolls over 'hate and envy'
Nagpur is hosting its first international match in three years and there is a lot of enthusiasm among the fans, who bought the tickets online within minutes. Even then the telephone rings in the old stadium of the VCA in the City and people still ask whether offline tickets were available.
The stadium is more than 20 km away from the city and the VCA is facing some problems regarding the provision of parking spaces for the spectators who bring their own vehicle.
With input from the agency
.