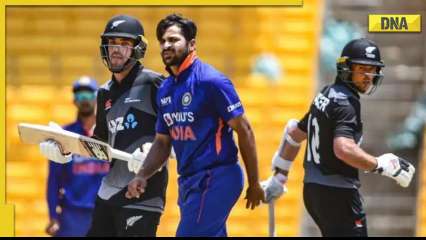 After a hard-fought battle in the first ODI, Team India will look to seal the series in the second ODI against New Zealand at the Shaheed Veer Narayan Singh International Stadium in Raipur. The Men in Blue currently have the upper hand with a 1-0 lead in the three match series, having emerged victorious in Hyderabad. With the series on the line, both teams will be eager to beat each other and secure victory in the series.
The Black Caps must get a win in the upcoming game if they want to maintain any chance of claiming the series. However, India will be eager to complete the series on January 21 in Raipur, after racking up consecutive victories in the 50-over format.
The Shaheed Veer Narayan Singh Cricket Stadium in Raipur will host its first international match. This will be India's 46th venue to host an ODI game, a momentous occasion for the nation.
Before the start of the second ODI match, let's take a look at some of the key statistics and records to be set in this game:

Most ODI matches won against New Zealand:

Australia – 95 (141 games)

Pakistan – 56 (110 matches)

India – 56 (114 matches)
Highest batting average vs India in ODIs (hosting at least 15):

Gary Kirsten – 62.59 (26 inns)

Steven Smith – 62.38 (18 inns)

Tom Latham – 62.14 (18 inns)
Highest batting average in ODIs (minimum 15 inns):

Rassie van der Dussen – 69.31 (32 inns)

Shubman Gill – 68.87 (19 inns)

Ryan ten Doeschate – 67 (32 inns)
Most runs in international cricket:
Sachin Tendulkar – 34357

Kumar Sangakkara – 28016

Ricky Ponting – 27483

Mahela Jayawardene – 25957

Jacques Kallis – 25534

Virat Kohli – 24889
Records that can be broken in this game-

Mohammed Shami is about to hit a major milestone, needing just four more wickets to reach 400 in international cricket. Similarly, Shardul Thakur is also on the cusp of a personal best, needing only four more wickets to reach 50 in One Day Internationals. With both bowlers in fine form, it won't be long before they reach these impressive milestones.
Suryakumar Yadav is just three runs away from reaching the 2,000 run mark in international cricket.
Virat Kohli is just 111 runs away from becoming the sixth batsman to reach the 25,000 international run milestone, joining the illustrious company of Sachin Tendulkar, Ricky Ponting, Kumar Sangakkara, Jacques Kallis and Mahela Jayawardene. If he succeeds, Kohli will join an elite group of cricketers who have achieved this remarkable feat and cemented his place in the history books.
READ| Virat Kohli lashes out at 'football experts' criticizing Cristiano Ronaldo in brutal Instagram post
.