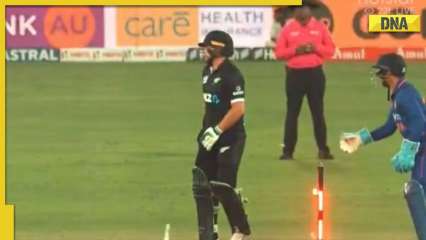 Ishan Kishan has reportedly avoided a four to 12 match suspension despite misleading the referees during the first ODI against New Zealand last week. During the sixteenth over of New Zealand's innings, the wicketkeeper decided to have some fun and removed the bails after collecting the ball.
The young player also appealed, prompting the third umpire to investigate whether Tom Latham was out with a hit wicket or not. Despite his mischievous antics, Kishan managed to escape a lengthy ban.
The replays revealed that Kishan had deliberately released bail and his actions could have resulted in a lengthy suspension. According to a report in stuff.co.nz, match referee Javagal Srinath spoke with Kishan, Rohit Sharma and Rahul Dravid. The report further states that the former Indian pacer also spoke to visiting coach, Luke Ronchi, who ultimately opted not to pursue the matter.
If New Zealand had decided to make an official complaint against Kishan, he could have faced a severe punishment.
The left-handed batsman could have been suspended for four to twelve ODIs or T20Is under the level 3 offense of the ICC's Code of Conduct. However, as the visiting side failed to report this, Ishan was able to play in the second and third ODIs.
Indian legend Sunil Gavaskar was unimpressed with Kishan's actions and berated him for it. His fellow commentator, Murali Karthik, believed that the youngster should not have appealed if he had done it just for fun. Gavaskar argued that such behavior was unacceptable and set a bad example for the younger generation of cricketers. Karthik, on the other hand, suggested that Kishan should have been more aware of the consequences of his actions.
Kishan played the second ODI and remained unbeaten on 8 from 9 balls. In the third ODI, he selflessly sacrificed his wicket for senior Virat Kohli to take 17. India put on an impressive total of 385 runs.
READ| IND vs NZ 3rd ODI: Shubman Gill breaks Virat Kohli's record, joins Babar Azam after stellar century
.