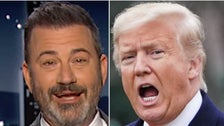 Trump was banned from Facebook in 2021 after his supporters attacked the US Capitol in an attempt to block the certification of the election he lost and keep him in office.
Facebook later said the suspension would last two years and would only be reinstated when "the risk to public safety has diminished."
"I'm actually surprised that Trump wants to go back to work," Kimmel said Thursday. "Isn't Facebook just an unpleasant annual reminder that Don Jr. and Eric were born?"
Kimmel issued a warning to Facebook straight from the movies.
"This is like Jurassic Park saying they're going to ask around to see if it's cool to release the raptors," he burst out.
Kimmel also couldn't resist taking a shot at the former president's flailing social media platform.
"Who needs Facebook when you can reach nearly a dozen people a day on Truth Social?" he asked.
See more in his monologue on Thursday night:
.