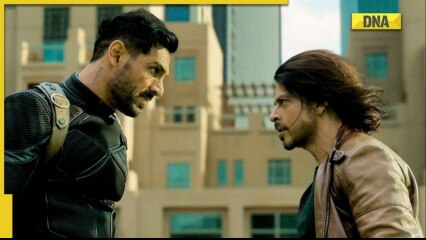 Days after reports suggested things were not going well between Shah Rukh Khan and John Abraham, the latter has opened up about his Pathaan counterpart. In a video shared by Yash Raj Films, the producers of Pathaan, John talks about the film and Shah Rukh, praising him and saying he is also waiting for his comeback.
Pathaan is Shah Rukh's first film as a lead actor in over four years. John Abraham plays the film's antagonist. It also stars Deepika Padukone. On Thursday, YRF shared a video called Pathaan talks with John Abraham as part of the film's promotional campaign. Earlier, YRF had shared similar videos of Shah Rukh and the film's director Siddharth Anand.
When asked his opinion on Shah Rukh's return as "the whole nation has missed him," John said, "I don't think only the whole nation has missed him." I think the whole world wants to see Shah Rukh Khan on screen, including myself. I think he's more than good because he's fantastic in this movie."
Earlier reports had suggested that John was unhappy with Pathaan's final cut and this had strained his comparison to Shah Rukh. The rumors came to light after John dodged a question about Shah Rukh Khan's physique in Pathaan at a recent event. However, later he wrote a note on Pathaan saying that he is eagerly looking forward and wants to say a lot but will wait for the 25ethe release date of the movie.
Pathaan's publicity campaign differs from some of the recent big budget Bollywood films in that the cast and crew have not given any interviews or appeared in any shows for promotions so far. Despite this, the film has generated a huge buzz and earned Rs 1.33 crore in advance sales a week before its release.
.