A KCSE candidate from Kiambu County fled an examination center by destroying a police vehicle.
According to a police report seen by UKTN.co.ke, the incident happened at Karigu-ini mixed secondary school when the student refused to be searched before starting the day's test which was the CRE 1 test.
The examination center officer noted that the student did not have a face mask, and after questioning the boy, he confronted himself.
The boy reportedly threw insulting words at the officer, causing a stir.
CS Magoha is supervising the KCSE exams at St Pauls Agenga School in Migori County on March 26, 2021.
Twitter
The scene disrupted the exam prep for a while, with another officer entering the room to find out what was going on.
When the other officer arrived in the examination room, the student fled. On exiting the compound, he allegedly picked up a rock and hit the windshield of a police land cruiser that was parked outside.
The police report revealed that the student managed to move away from the center caused destruction.
Officers at the center managed to restore normalcy to the center, with the other students managing to sit down for the newspaper in time.
Incidences of KCSE students during the review period have been reported in different regions of the country.
On April 6, a nervous KCSE candidate attempted to run away from the exam room while administering the Mathematics Paper Two test.
The school principal was forced to run after the discouraged student and caught him near the school fence.
The principal revealed that he gave the student a cup of milk to calm his nerves and persuade him to finish the math paper.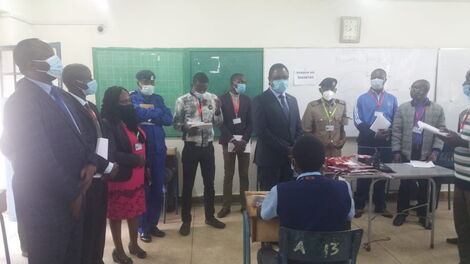 University teaching and research PS Amb. Simon Nabukwesi is overseeing the distribution of the first article of the fourth day of KCSE at the Nairobi school on March 31, 2021.
Twitter