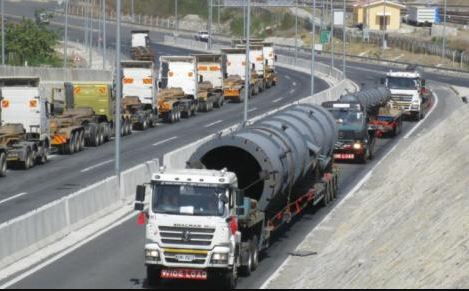 The Kenya National Highways Authority (KeNHA) has imposed a fine of Ksh 45 million to protect roads from destruction and to tame hauliers against tampering with the axle load.
The fines will first be rolled out along the Northern Corridor connecting Kenya to Burundi, the Democratic Republic of Congo, Rwanda, Uganda and South Sudan, according to KeNHA's statement on Tuesday, January 24.
While revealing the fine, Kennedy Ndungire, KeNHA's Senior Manager of Axle Load Enforcement, stated that tampering with the axle loads by vehicles using the route leads to massive road destruction.
Ndungire insisted that the operation target trailers, trucks and other vehicles carrying goods to other East African countries.
Seven Stars Company trucks on a road in Kenya.
File
The crackdown aims to enforce road standards in the country and tame hauliers. It is also aimed at reducing the number of road accidents caused by overloading.
"What they're doing is destroying that part of the road, which is an expensive asset.
"Some mess with the axle after passing through the Mariakani weighbridge and don't adjust it until they reach the Athi River," Ndungire complained.
According to KeNHA, some of the carriers targeted by the operation installed faulty lift axles to mislead weighbridge operators.
KeNHA defended the move to impose a hefty fine on carriers, but insisted that protecting the Northern Corridor promotes efficient and competitive transportation.
The Northern Corridor Transit and Transport Agreement (NCTTA) is a treaty linked to 11 protocols signed in 1985 and revised in 2007 for regional cooperation with a view to facilitating interstate and transit trade.
It was established and mandated by the member states to oversee the implementation of the agreement to monitor its performance and transform the trade route to the north.
The road was also built to boost economic development in the East African regions. Kenya praised the construction of the road, noting that it had facilitated the movement of goods and reduced traffic on major highways in Nairobi and other parts of the country.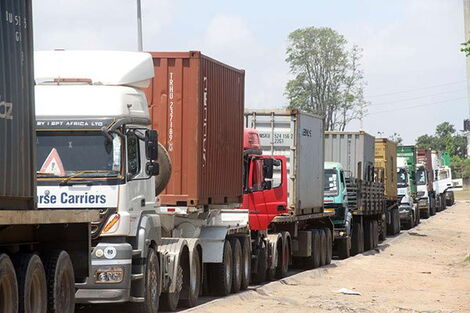 Trucks stopped at traffic jams along a highway.
Twitter
accident