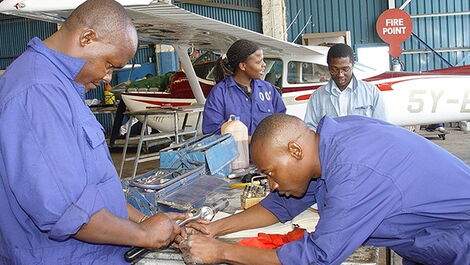 The Embassy of Ireland in Nairobi and the Kenya Private Sector Association (KEPSA) are working together to give Kenyan women the opportunity to grow their businesses, through a well-thought-out plan that aims to achieve economic freedom after the 9 August elections to improve.
The program, called Small and Medium Enterprise (SME) Accelerator Cohort 3, will run for four months and will target women and young people in any type of business, but priority will be given to KEPSA members.
Topics covered in the program include training on developing comprehensive business plans, developing three-year corporate financial projections, developing pitch decks and the art of pitching, understanding legal investor documentation and an overview of the financing landscape.
File
Commonwealth
It offers intense training but a mild spec for those who qualify. Applicants must have been in the business for a minimum of one year and a maximum of ten years. They must have between one and nine employees.
"It includes intensive training and mentoring sessions to strengthen their current strategies, accelerate their growth and help them change or adapt their strategy due to new information about their target market."
The main objectives for this cohort are to support the selected SMEs to evaluate their business processes and identify the gaps they need to address to be ready for funding.
To be eligible for funding, applicants must be a female-led SME aged 18-70 and a male-led SME aged 18-35.
Other requirements include being registered in Kenya and operating in one of the 47 provinces with companies operating outside of Nairobi encouraged to apply.
You must also show commitment and participate in the program for four months by attending eleven weekly sessions of two hours each. Applicants must also be computer literate.
They must also be willing employers willing to work and submit agreed deliveries, namely; business plans, financial projections and pitch decks and have access to a suitable device and reliable internet connection to participate as all sessions will be virtual.
How to apply?
Qualified applicants have until August 14 to submit their application, which will be done online through the KEPSA portal kepsa(dot)or(dot)ke(slash)smes(hyphen)opportunities(slash)
The main goal of this cohort will be to build capacity for participating SMEs so that they can access suitable financial products with the aim of growing and expanding their business.
From left to right: Nick Nesbitt, Kenyan Private Sector President, Ministry of Commerce Chief Secretary Dr. Chris Kiptoo and KEPSA CEO Carole Kariuki at the launch of the MSMEs Policy Index on December 11, 2020.
File
KEPSA