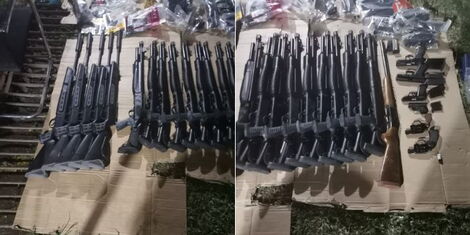 Nairobi businessman Ken Lugwili who was nabbed with a cache of military weapons stored in his upmarket flat in the upmarket Kilimani estate is among the few most high-profile people who have had in trouble with the law for more than 16 years.
Although he keeps a low profile, concealing his lavish lifestyle dominated by a fleet of flashy cars and wads of cash, he has made headlines on several occasions, but for all the wrong reasons.
Lugwili's run-ins with the police paint a picture of a well-connected person posing as a reclusive businessman in the auto industry.
The businessman has a long and common thread of ongoing court cases ranging from cases of fraud, land grabbing, fake gold and even counterfeit money trafficking.
Military-grade weapons during a raid on an office in Kilimani on Tuesday, June 21, 2022.
Courtesy
His controversies have now spanned over a decade, with law enforcement referring to him by different names.
The businessman first came to national attention after being accused of impersonating Alfred Gitonga, the aide to the late President Mwai Kibaki. This was mentioned in a court case on September 9, 2003, where he was accused of trying to defraud several businessmen.
The court found him guilty and slapped him with a nine-year prison sentence. However, his sentence was translated to three years in prison because they had to run concurrently.
This imprisonment, however, did not prevent him from continuing his criminal activities. In October 2003, he was again involved in another fraud case where he was accused of trying to defraud a former pipeline manager of Ksh 20,000. The prosecution saw him add another two years behind bars.
Eight years later, in 2011, the Nairobi businessman crowned his pursuits in the city again after he was featured in the news cycle for turning himself in to cops over the murder of Mercy Keino. Details regarding the case remained scarce as preliminary investigations indicated that his car was allegedly used to dump Keino on Waiyaki Way after he was murdered elsewhere.
Former Kiambu Governor William Kabogo was mentioned negatively in the case after it emerged he had hosted Keino at Wasini Luxury Homes in Westlands, Nairobi County ahead of the ordeal. Preliminary reports had said that Kabogo had clashed with the then student at the University of Nairobi. It has also been widely alleged that Keino could have been murdered at the party the lawmaker attended.
Senior Magistrate Peter Ndwiga then summoned the former governor to appear in court regarding the case. However, four days later, Lugwili's story changed the dynamics of the case. He admitted that his car had run him over and further stated that he was ready to cooperate with detectives.
Lugwili's confession saved Kabogo and brought attention to him regarding the case of the late Keino.
"Witnesses have been uncooperative, not picking up their phones when we try to reach them and not honoring our appointments every time we send someone," the state's attorney told the court. , forcing the court to summon Kabogo.
On February 13, 2018, he was charged with changing the ownership details of the property which was valued at Ksh 3 million in 1993. Court intervention prevented him from driving our couple off their land.
A year later, the Directorate of Criminal Investigations (DCI) shared a report on May 5, 2019, linking it to counterfeit currency that was seized in the Kilimani estate.
The statement said he was part of the syndicate linked to the minting of counterfeit money after 190 million Ksh of counterfeit US dollars were caught. The case is still active in court.
The discovery of 22 firearms follows a raid to oversee his eviction from an apartment in Kilimani where he is said to have accumulated rent arrears amounting to Ksh 4.9 million.
"Officers discovered among other things: nine Escort magnum short rifles, a Benelli short rifle, five guatro short rifles, a savage short rifle, six pistols with two magazines, ten sniper torches, nine double magazine pouches and 25 gun holsters," said the police statement read in part.
Despite reports that Lugwili is a licensed firearms owner, he is expected to be grilled by the police counter-terrorism unit before a conclusive report is made public after his surrender.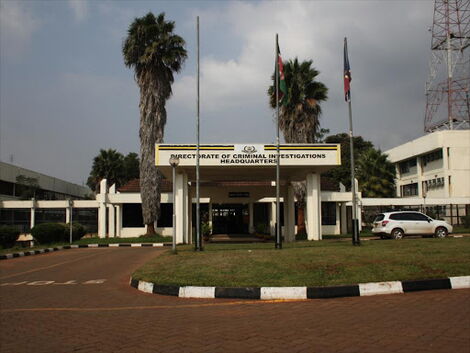 A file image of the DCI headquarters along Kiambu Road
Facebook
criminal armed gun murder Stop scam