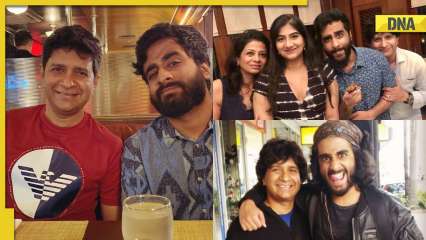 The untimely demise of singer Krishnakumar Kunnath, popularly known as KK, has left everyone in shock. It's been more than 20 days since he died and it's still hard to stomach that he's gone.
On Tuesday, KK's son, Nakul Krishna, took to social media and wrote an emotional note, explaining that it took him a while to come to terms with what happened. "It took me a while to come to terms with what happened 3 weeks ago. Even now the pain is physical, like I was choking, like people were standing on my chest. I wanted say something, share anything about my dad but i finally understood the stillness in shock i finally understood the real pain i only now realize the privilege you gave me not the privilege of a comfortable life, I always knew that I was blessed in this respect. I never had the opportunity to see you every day," he wrote.


He added: "So many people just wanted to see you once, be in your presence once, half a hug would make them tremble. And there we were, being showered and awash with your love every moment. I was able to see your perspective on how you treated people, how passionate you were about everything you did, especially singing. How generously you loved. Nakul shared that KK treated me "like an equal while protecting and protecting myself".
"Treat me like an adult in conversation but call me to check on me as soon as I leave the house. Trust me completely no matter what I decide, allow me to be myself, listen to me and change your opinions based on what I said to you, being the open-minded, forward-thinking person that you were. People would tell me about their relationships with their fathers and I always found some things odd. took me a very long time to realize our relationship was the most outlier," he wrote. "You set the bar incredibly high, as a father, but more importantly as a friend. A fierce force of nature… bewitching on stage and a magnanimous, selfless, cuddly cartoon at home who constantly jokes and plays. The Abyssal The void that remains in your wake, not only in our hearts, but in the hearts of millions, testifies to your brilliance. A brilliant brief burst that burned too hard too fast. This impossible line, where the waves conspire, where they return. The place maybe you and I will meet again," he concluded.
On May 31, 2022, KK fell ill while performing at Nazrul Manch in South Kolkata and had to be rushed to a hospital where doctors pronounced him dead upon arrival. He was 53 years old.
.